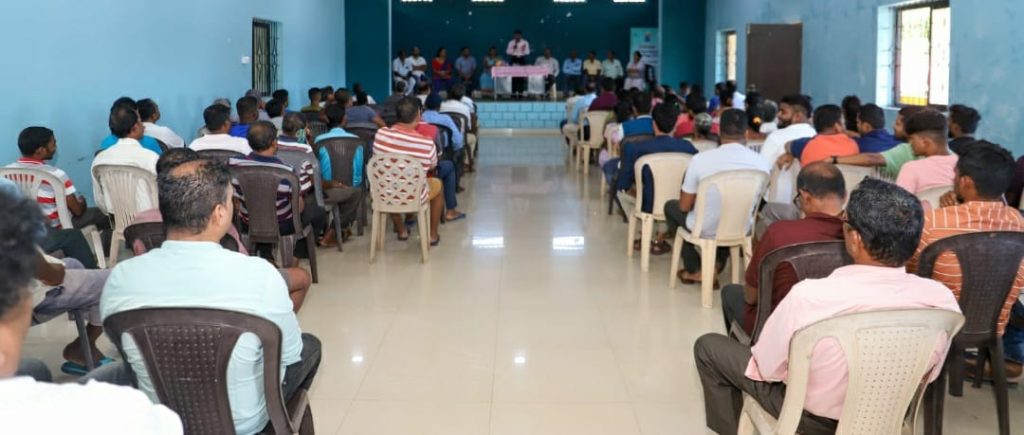 Goemkarponn desk
CANACONA – In a stormy session, Shrishthal Gramsabha resolved to investigate the controversial tendering of 14 projects and all other works carried out by Panchayat during the last five years through the Vigilance Department.
After a heated discussion on the tender process of 14 different works, alleging illegality and misrepresentations, members vociferously demanded a vigilance inquiry also for all the works carried out by previous (last 5 years) Panchayat.
In the beginning, Shirish Pai proposed a resolution of congratulation to the newly elected Panch members, Sarpanch and Dy. Sarpanch, Ramesh Tawadkar, for his election to the post of GLA Speaker, State recognized Swayampurn-Mitr Milind Velip, Goa State Biodiversity Board awardee Kanta Gayak, meritorious students from the village, Bhumi Rajendra Gosavi and Purva Pramod Naik. Vinay Tubki seconded the congratulatory resolution passed unanimously.
Minutes of last Gramsabha and the expenditure were approved, while members raised various questions and hotly discussed. Questions were raised on closed industries in the Industrial Estate, forest rights claims, house numbers, Sub Health centre, panchayat-like transactions and other misdeeds along the lines of casinos, garbage projects, auditorium rent, illegal construction on communidade land, etc.
In some matters, GLA Speaker suggested holding meetings with the concerned parties to try and resolve the issues. Recently, a body of a youth was found in Bhatpal in a suspicious condition, and a proper investigation was demanded. Purso Velip, Pandurang Gaonkar, Pawan Tubki, Chanda Desai, Pratap Tubki, Satish Gosavi, Akhil Tubki, Jess Fernandes, and other villagers participated in the discussion.
While a member Pavan Tupki alleged huge malpractice and illegality in the tendering process, and since there was no adequate response to the demand made by Pratap Tubki, Pavan demanded an inquiry into this process through the Vigilance Department. Soon the accusation and counter-accusation started.
Ajay Tubki, Pandurang Gaonkar, Sadhana Naik, Umesh Tubki, Jess Fernandes, Akhil Tubki and others participated in the discussion. Finally, a resolution was passed demanding an inquiry into the said tender process through the vigilance department and also an inquiry into all the works done by the Panchayat during the last five years.
Members also objected to the Village Development Committee (VDC) appointment, stating no VDC meeting was held in the last five years, and since people's participation is not required, members refused to elect a new committee.
The Gram Sabha ended with a vote of thanks by Sarpanch Sejal Gaonkar.
Speaker Ramesh Tawadkar suggested drawing up a development plan, keeping aside politics and working in an organized manner in development work through the participation of the public and promised his full cooperation.
Comment