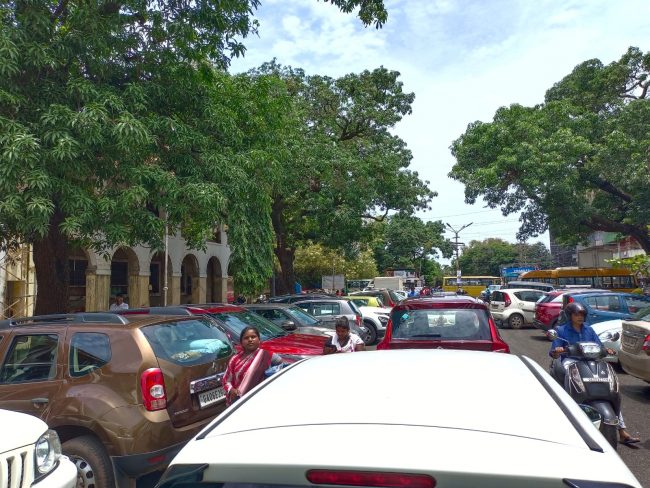 Goemkarponn desk
VASCO: Parking issue from Vasco town likely to be solved as the Chairperson Leo Rodrigues has assured to put a full stop to haphazard parking soon in the municipal area of Mormugao.
People of Mormugao will have to just wait and watch this time because the newly elected Chairperson of MMC Leo Rodrigues has rolled his sleeves up to clear the parking woes from the town.
There has been an absolute difficulty which is faced by the visitors and locals of the Vasco town about parking of vehicles. Cities like Panaji and Margao have a pay parking system in place which tends to generate handsome revenue to the local municipalities. But unfortunately despite Vasco being a planned city since colonial time the parking system here has remained haphazard.
A few years back there were plans to make certain areas of Vasco into a pay parking. The main objective behind this initiative was to bring order in parking vehicles which would have solved traffic congestion in the city and haphazard parking but sadly these ideas remained on the paper and nothing was materialized on the ground.
A person named Gautam Shevde said that in some parking stretches of Vasco town, the private rent and bike scooters, bikes and cars are seen parked. Where are the visitors supposed to keep their cars parked? There has to be some proper parking arrangement done.
Shraiya Chodnekar said that whenever she visits Vasco town for some work, the first thing that comes to her mind is where will she find a parking space.
She further said that nominal charges could be given as a pay parking by the people. This will help smooth movement of vehicles on the busy road who otherwise are seen with the parked vehicles in an unorganised way.
Meanwhile, when asked Leo Rodrigues, what he intends to do about the chronic problem of four wheeler and two wheeler parking, Rodrigues said that he will put the parking in place after the Saptah ferry is over. He said that he will make proper parking arrangements for all the vehicles.
Comment