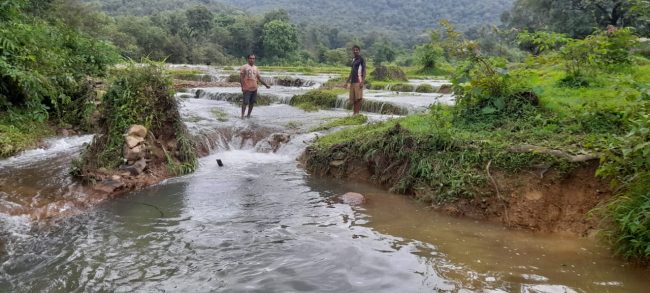 Goemkarponn desk
CANACONA – A sudden spurt of Cloudburst has destroyed paddy fields in Khotigao in Canacona.
According to sources, very heavy rains pounded the Nadkem area between 2 pm to 5 pm, creating a flood-like situation and destroying the paddy fields of at least six farmers in the locality.
As the heavy gush of rainwater entered the already choked river where earlier demands for desilting were partially carried, and instead, bypassing the river, the floods tore through the paddy fields, destroying the same and almost creating a new rivulet in the area.
Locals informed large tracts of paddy fields had been destroyed in the sudden spurt of Cloudburst, and at least six farmers had to bear the brunt of the same.
'Such type of increase in the water we had never encountered anytime before even during Canacona 2009 floods, but the flood waters gushing in violently, had almost destroyed the locality itself besides the newly transplanted paddy fields.', informed a resident.
'Interestingly, we saw the rains pounding only in one side of the village, and water started the flood like never before, and so much so that the flood waters had carved in a new creek through the middle of our fields already cultivated. Around 3500 sqm of cultivated fields are destroyed and lost, as also since the cultivation time is over, it's not possible to re-cultivate it again. It is also up to the agriculture department to inspect our fields and compensate us suitably ', informed another resident.
"We have no explanation for the rains we have witnessed that day, or all we can say is it's a Cloudburst. Otherwise, there's no other reason for such heavy rains. Besides heavy sounds emanating from the mountains, there was lightning and thundering for some period. We suspect the water rose above 3 metres, which we never had in the past saw, not even during the 2009 Canacona floods," he said.
"We have so far identified six farmers whose paddy is destroyed, and we accordingly are submitting our claims to the agriculture department ', a farmer said.
Another farmer who reared his cattle said he and the Cattles were caught in the middle as both sides' floods begged to flow violently. If we had come into it, castles as well as we too would have washed away.
Comment