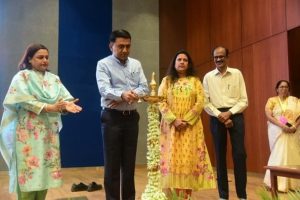 Goemkarponn desk
PANAJI: Chief Minister Dr Pramod Sawant inaugurated and addressed "Swayampurnaa Samman" the celebration of International Women's Day in Goa organized by the State Government at such a huge level for the first time.
The event was graced by Women Representatives of the Goa Government, Dr Deviya Rane, MLA, Poriem, Smt. Jennifer Monseratte, MLA, Taleigao, Smt. Delilah Lobo, MLA, Siolim and other dignitaries.
Goa Government has organized "Swayampurnaa Samman" under the aegis of Goa's flagship programme Swayampurna Goa which is supporting the beacon call of Prime Minister Narendra Modi of creating an Atmanirbhar Bharat.
The event bestowed recognition while celebrating every contribution made by the women of Goa in all spheres of life.
Chief Minister Dr Pramod Sawant addressed the esteemed occasion with a message to all women to care for their health and fitness. He said, "Women need to care for their physical and mental health."
He also stated, "The preachings of gender equality should begin at home to ensure a secure environment for women today and tomorrow."
On occasion, Chief Minister also appreciated the efforts of Swayampurna Mitras toward extending informative and resourceful help to women looking forward to a solution at any level, be it a loan, upskilling, education or self-entrepreneurship.
The following is a list of Women Achievers who were felicitated at the distinguished occasion.
Bhakti Kulkarni, the prodigious chess player from Goa, received the FIDE titles of Woman Grandmaster (WGM) and International Master (IM) in 2019.
She also received the Arjuna Award for her contribution to chess. Katya Coelho won the Gold Medal in the IQ Foil Women's Class at YAI Senior Nationals and the Sail India Championship 2023 in the third trial in the women's category.
Archita Siddhanth Shirodkar was felicitated for her performance in the field of weightlifting, whereas Sneha Krishnagopal Yadav and Samrudhi Shivaji Patil were acknowledged for their prowess in Taekwondo.
Sakshi Kale was felicitated for her inspirational participation in the Long Jump Category at Para Athletics. Vinziah Pareria was appreciated for winning a Silver Medal in the cadets category and a bronze medal in the Junior Category at the West zone Khelo India. Ima Patil won a bronze medal in the Junior Category at the West zone Khelo India league 2023, while Dr. Sicletica Rebello was honoured at the age of 82 for winning the Gold Medal in the All India Badminton Masters Tournament held in Goa. Babita Boko Zoro, who has contributed to Goat Farming; Deepa Degvekar and Afira Andrade toward Agriculture/Nursery; Dr Aduja Naik for her contribution to Research and Development in Mushroom Cultivation; and Bharati Shamba Naik, Anita Arun Naik, Rami Varak, Sangita Bhago Zore for their work in the field of Dairy Farming were also honoured.
Specially abled women are not far behind.
Surekha Nilkanth Chodankar was appreciated for contributing funds towards social causes, including COVID and for donating a part of her earnings to the Pulvama Attack Fund. Meghana Mohan Naik was felicitated for her relentless determination to work. Despite being blind, she prepares mats, dhoop, agarbatti, etc.
Sonia Arondekar, a 1st Dan Black Belt in Shotokan Karate, and the Founder of Dragon Yoga School, Akanshsha Naik, a mother to 3 daughters making masalas, providing nursing treatment, Rasika Khandeparkar, a recipient of an award from the President of India for Door to Door Collection of Garbage, Rashida Muzawar, an NCC Cadet, and Vira Viraj Naik, a young entrepreneur endorsing computer embroidery were also honoured at the occasion.
Sweta Goankar, a coconut tree climber who also imparts training to youth, was also awarded. Sunita Sawant and Shruti Pujari, who make traditional festive sweets, were felicitated along with Priti Sadekar, who proudly runs a professional kitchen.
Ranjita Pai, Chairperson of the State Commission for Women and Angelica Leana Odetta Sarita Da Silva, recently promoted as the Chief Engineer of PWD, were honoured at the occasion.
Two Goan daughters, Richa Lau Govekar and Gauri Deepak Dhavalikar, who are soaring the skies as commercial pilots, were also felicitated. Yoga Teacher Neelam Marathe, Bamboo Items Artist Mali Tulsidas Parwar, Garland Artist Indumati Kashinath Chitari, Flour Operator Mamta Hanumant Volvoikar, and Micro Food Formalization Technician Pramila Fernandes were honoured at the event.
Famous Fashion Designers of Goa, Verma D'Mello and Philu Martins, received recognition today for their contribution to the global level promotion of the Kunbi Saree.
Self-Help Groups, including Ravalnath Juth Bag S.H.G., Arambol, Chaitanya S.H.G. Cooperative Society, Bendurem, Kaloba S.H.G., Paliem, Bavakhan S.H.G., Pernem, and the Pink Rickshaw Group were also presented with the Swayampurnaa Samman.
Comment