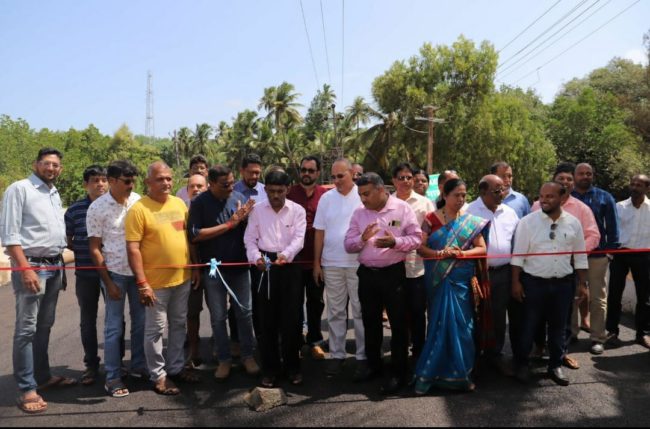 Goemkarponn desk
CANACONA – Ignoring the local body (Loliem-Polem panchayat), Speaker and Canacona MLA Ramesh Tawadkar inaugurated the 1.5 crores worth Culvert bridge on NH-66 road at Maxem in Loliem-Polem village on Friday.
Cutting the ribbon in the presence of local BJP functionaries early Friday morning, the bridge, which was constructed in the place of an old and delipidated Portuguese era structure, is commissioned for Traffic.
Incidentally, this bridge was believed to be an essential link on the NH-66 till the Manohar Parrikar Canacona Bypass Road (MPCBR-NH-66 Bypass) road was commissioned on the existing at Babrem-Maxem Highway' was taken up for reconstruction in December last.
The foundation stone to construct the same was laid by Ex-Dy Speaker and ex-Canacona MLA Isidore Fernandes in the presence of Loliem-Polem Sarpanch Sachin Naik, ward panch Nishant Prabhudessai and others, besides the PWD (Highway) Assistant Engineer and officers and the Contractor in December last.
When contacted, Loliem-Polem Sarpanch Sachin Naik expressed disappointment that neither he, as village sarpanch, nor even the area panch Nishant Prabhudessai was invited to the inauguration.
'When I contacted PWD (Highways) AE, Rajesh Gaude informed me that there is no such protocol to inform or invite local body representatives for the highway-related works," he said.
AE also started to argue with me that local bodies have no rights or jurisdictions on the National Highways passing through their localities. Besides, the AE took another excuse stating he was not aware of the inauguration and also didn't have my contacts, he said.
Further, stating that the previous MLA and Ex-Dy Speaker Fernandes had not only taken the trouble to get the works sanctioned pending for over a decade but had taken the panchayat body in confidence, and the presence of all had together laid the foundation stone for this bridge. Only the works are completed now, and the Speaker and our Canacona MLA Ramesh Tawadkar have inaugurated the bridge keeping the Panchayat and the villagers in the dark and uniform.
"This inauguration is not of party work; how can Panchayat be held in the loop, and how a sarpanch or panch will we attend the government function within the local body jurisdiction without being informed or invited?', asked Naik.
'We (Panchayat) have been attending and disposing of dead cattle carcasses killed on national Highway-66 in the village jurisdiction, sometimes even eight cattle carcasses a day, but now since AE says panchayat has no right on the National Highway passing through our village, we are not going attend these calls but inform PWD Highway to clear and dispose-off carcasses of cattle killed on NH-66 road in the village jurisdiction, anymore '.
Naik also demanded with the Chief Minister and PWD minister for a proper enquiry against the PWD officers for ignoring the local body.
Comment