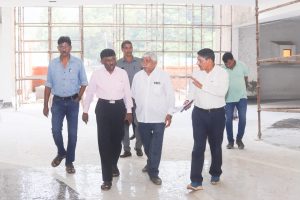 Goemkarponn Desk
CANACONA – Stating Canacona's Ravindra Bhavan is his dream project and so also of Canconcar's, Canacona MLA and Speaker Ramesh Tawadkar gave 26th January as the day of its Inauguration.
Tawadkar was speaking to the media after inspecting the ongoing works of Canacona's Ravindra Bhavan which began seven years ago at Chaudi in Canacona. Contractor and Consultant,
'The work of construction of Ravindra Bhavan has been going on for the last seven years, and today after inspecting these works, I had a constructive meeting with the GSUDA Officials, Consultant and the Contractor. 80% of the works are completed. With a target of 26th January'2024 in mind for its inauguration, I am assured this target would be achieved. We are meeting again in the next 15 days. I am assured that the 10-15% of the remaining major works would be completed by 15th December itself, so that the cultural programs like Nataks, etc can be held/organised soon after its inauguration.'
Answering to a specific query Tawadkar informed that the Main Auditorium of Canacona Ravindra Bhavan will have seating capacity of 800 people. There is a well acclaimed Library, there will be other class-rroms for different arts and music. We have also made a request to make provisions for a Margao Ravindra Bhawan type 'Black-Box', in the already planned Mini-Hall where programs with 150-200 capacity are arranged. The visit and meeting was to on informed It will
'the works are already in final stages, and wherever or even if some hiccups are encountered will be resolved and the building would be complete in time for inauguration of 26th January 2024., assured Tawadkar.
Incidentally, it may be recalled that the then Chief Minister Manohar Parrikar, laid the foundation stone for Canacona Ravindra Bhavan on July 27, 2013, in the presence of then Sports Minister and present Speaker Ramesh Tawadkar who celebrated his birthday on that day.
The actual construction works had begun in the year 2017, by Goa State Infrastructure Development Corporation appointed Contractor (from New Delhi) just before the code of conduct 2017 assembly elections came into effect, almost 05 years after the Foundation Stone was laid in 2013, and the works which were executed in slow pace continues to drag even now, seven years later.
Comment