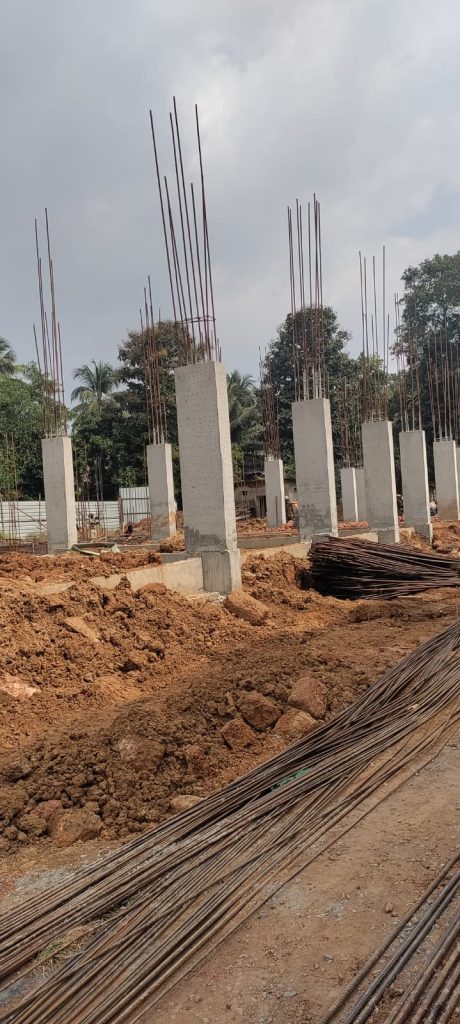 Goemkarponnd esk
CANACONA: Stating no substandard works will be tolerated, Speaker Ramesh Tawadkar, in a blunt retort, told the GSUDA Contractor that the building will have to be demolished and reconstructed afresh if the works are not carried out as per specifications and construction designs.
The GSUDA is constructing an 11-crore worth 3-storey Administrative -Cum-Commercial building by demolishing the Portuguese-era Camara for Canacona Municipality.
Councillors have been bitterly complaining of delays in works as well as faulty designs right from the foundation/footing/Columns works since the GSUDA appointed Contractor began the works in April month.
After the issue rocked up the Councils meeting and the matter was brought to the notice of Canacona MLA, CMC Chairperson Ramakant Naikgaunkar fixed a joint inspection of the work-site on Thursday.
Accordingly, in the absence of any official from GSUDA, only the Contractor appeared at the Site, while Speaker, Chairperson and most councillors figured out the discrepancies in the works.
CMC complained of not non-availability of a construction Plan at the work site, execution of the works in a faulty manner, use of poor quality construction materials, no curing of the slab/beams and overall inordinate delay in works.
Councillors also sought to know the RCC design and related issues
Naikgaunkar asked the Contractor, 'whether GSUDA will build the building as per their whims and fancies and will go away, and why GSUDA is not supervising the works!, Why is there not a single person from GSUDA to supervise the works?'
Pointing out to at least 3 faulty Columns, to which the Contractor virtually accepted one has a faulty design, Speaker Ramesh Tawadkar told the Contractor, 'age chalker,/ bhi aisa hi galti ho jaye, toh banda-hua building demolish karke naya bandna padega (if the same type of mistakes are committed in future, the constructed building will have to be demolished and constructed afresh' '.
Later Tawadkar said this was the dream project of Canacona municipality, and any below-the-par works would not be tolerated. This work should happen only per the tender's specifications and terms and conditions. Site Inspection will regularly take place for this works'.
As for the delay, the Contractor said, "Site was handed over to me One and Half years late, initially demolition of the old building has to be done by CMC itself; more than six months we were waiting for demolition, after that by going out of the way, we carried out demolition which was not in my scope. In April, I began the work, but I accept that works are at a slow pace, but yes, I am completing the given 18 months '.
Contractor also assured to post a senior engineer and speed up the work.
Comment