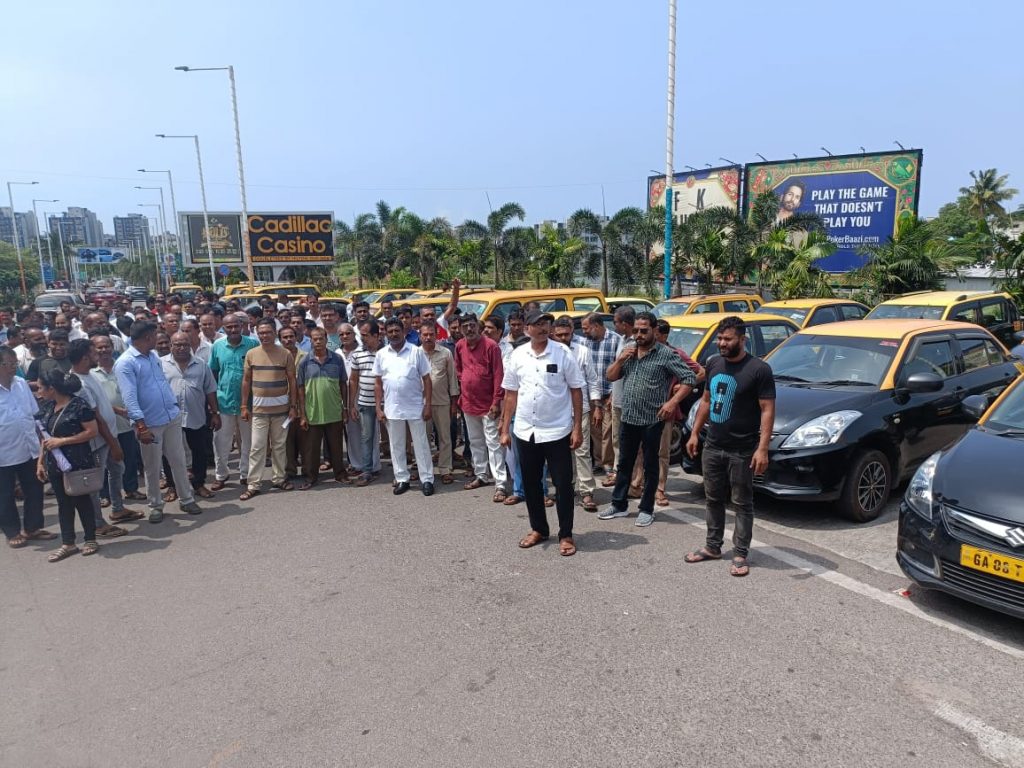 Goemkarponn desk
VASCO: The United Taximen Union (UTU), have demanded stern action against illegal taxis and rent car operators at Goa Airport.
UTU requested CM Dr Pramod Sawant to intervene and provide additional staff at Goa Airport to curb the illegal operations failing which the Union has even warned of taking the law into the hands
President Vidhyanand Divkar said that there had been many touting cases eating on the business of the yellow, black taxis at Goa Airport
"We will not keep quiet any longer and not allow these people at the Airport. We have requested the police many times to increase the staff at Goa Airport during the day and night, but nothing has happened as yet, and these touts continue to flourish here and cause many issues. Some illegal taxis are overcharging customers while some are indulging in unwanted activities, and they are spoiling our name in the bargain," said Divkar.
UTU Member Anand Pednekar said that while the Government wanted to boost tourism by giving good services to tourists, some illegal taxi operators have been spoiling the state's name.
"One illegal taxi driver has been caught by the police on charges of supplying drugs to a passenger hospitalized due to drug overdose. Such activities and these unauthorized taxi operators are indulging in anti-social activities and overcharging, spoiling our name and the state's reputation," said Pednekar.
"We want CM Dr Pramod Sawant to intervene and give us additional police to keep such touts and illegal taxi operators at bay. We will now catch these touts and be forced to take the law into our hands because the police have repeatedly been telling us that they don't have staff. We also have rent cab operators at the Airport, and while we don't have issues with anyone doing business, the rent car operators must do business from their office and not from the Airport, " said Pednekar.
UTU Member Prasad Prabhugaonkar said that the Yellow, black taxis at Airport had been the lonely source of survival for many and passed from one generation to another.
"We have written several times to the police, and the Airport Police says they don't have staff. We have time and again requested the police to curb the touts that have increased significantly over the last few years.
While the yellow Black taxi operators have a legal counter at the Airport, these illegal taxis pose a great danger to tourists, and we cannot say what crime these illegal taxi operators can commit because no one knows these drivers and their native places. No one will be able to trace a crime committed by these illegal taxi operators that arrive at the Airport and fool passengers, and if this activity is not stopped, anyone will come to the Airport and take away tourists and commit a horrific crime, and the police will have no clue," he said.
He added, "We already have one case of molestation and one case of drugs against illegal taxis that had taken passengers from the Airport. We have private cars being given as taxis and rent a car as well, and these guys just fleece tourists and spoil the name of taxi operators. We have requested all the authorities including Transport and police department, and we have now been forced to warn of agitation or take law in our hands if these illegal taxi operators are not closed down," said Prabhugaonkar.
Comment