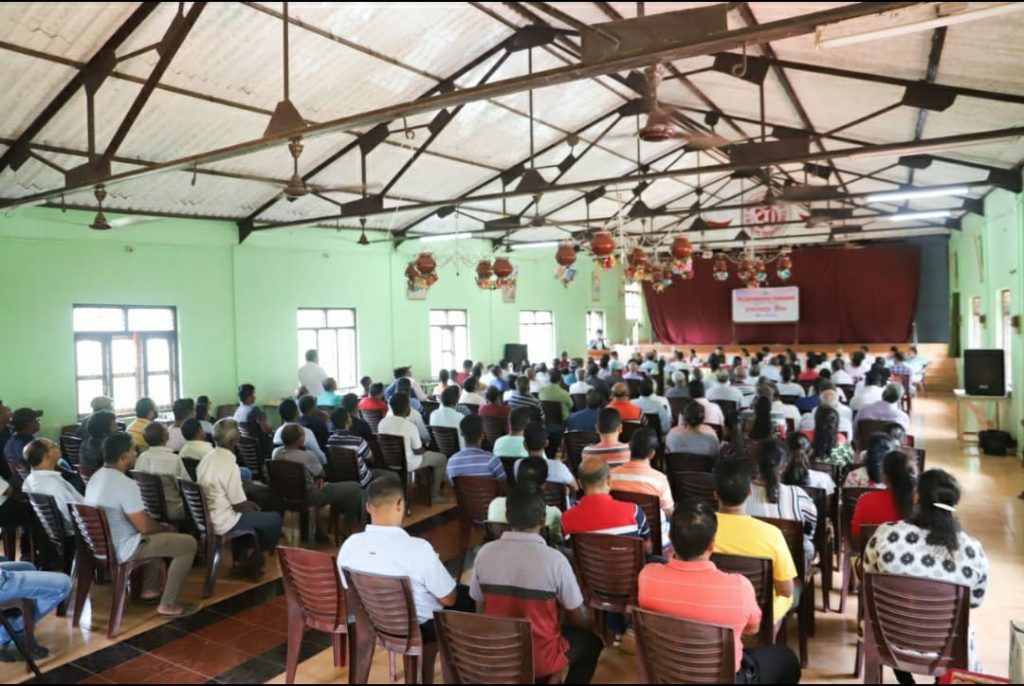 Goemkarponn desk
CANACONA – The largely attended Poinguinim Gramsabha was rocked after demands were made to pass resolutions against the alleged controversial TCP amendments and Sagarmala Jetty Project in the State of Goa.
A member Judas Barretto submitted a memorandum raising questions to the ongoing government called objections on TCP amendments and Sagarmala Jetty Project and pushed for passing a resolution by Poinguinim Gramsabha against the two issues.
"The time frames given for filing objections to the TCP amendments and Sagarmala Jetty Project is very short, and I would request to convey a resolution passed by Gramsabha as a common objection from the Villagers", Barretto sought after explaining the issues.
However, some of the members citing both issues need technical knowledge and objected to passing a resolution.
Barretto demanded voting to decide the matter.

Mahendra Phaldessai, and Uday Prabhugaongkar, who held different views on passing a resolution, said matters need to be properly studied before Gramsabha passes a resolution and sought to seek more time to enable the people to file their objections.
At one point, Speaker Ramesh Tawadkar reacted by informing he'd take up the matter with the government to extend the time frame to file objections on the twin issues to enable all the concerned to file objections. When questions were raised about whether Sagarmala Jetty Project would have any effect on Poinguinim village, then some members pointed out Talpona Jetty.
Subhash Mahale stated the sea encroachment towards land on the village Coast, informed Cyclone Tuktae already took away large chunks of Coastline a year ago, and presently over 10-meters towards landside is encroached by rough seas and called for immediate protection before coastal residents are threatened.
Issues were raised on road maintenance, Water and Electricity problem at Galiem, development of Potkem grounds.
After panch Pravir Bhandari demanded a fast process, Speaker informed in 6 months, the tendering and works on Potkem grounds will be started. It Amy be recalled that 3-crores were already sanctioned to develop Potkem grounds from the Tribal sub plan two years ago., besides, an amount of Rs.1.5 cr is already approved for the water supply and electricity at Galiem, the members were informed.
Tawadkar later informed he would get works of Underground Electricity cabling works worth Rs.37 Cr on
Priority at Loliem, the next phase will be at Poinguinim followed by UG cabling at Shrishthal, and within one-year electricity underground cabling works will be completed within a years time,
A resident, Vinayak Gosavi, demanded a nearby polling booth to vote during elections saying they had to travel 16 km to vote at the Marlim-Tirval booth.
Damodar Shenvi, Viraj Pai Khot, Vallabh Tengse, Venkatrai Naik, and Seby Barretto were some of the members who took part in the discussion as a strong crowd of over 200 members attended the first Gramsabha of Poinguinim Panchayat is held at Shradhanand Subagraha which commenced at 10am and ended after 1 pm.
Comment