Goemkarponn desk
Panaji: Star tennis players Tejas Shevde and Mano Chhabra reached the semi-finals of the men's singles event in the ongoing BPS All-Goa State Ranking Tennis Tournament 2023 at Margao on Thursday, where they will face off with Prince Agnelo and Rajaram Kundaikar for a berth in the finals.
Shevde and Chhabra defeated Anurag Agarwal and Akhil Shirwaikar (6-2) and (6-3) respectively, at the state ranking tournament, while Agnelo defeated Chandrakant Fulse (6-2), while Kundaikar vanquished Pankaj Naik (6-0) in their quarterfinal matches.
Upcoming tennis talent Darsh Pai also entered the semi-finals in two categories losing just one game in the two quarterfinal matches defeating Taroun Salgaonkar (6-1) and Devaansh Naik (6-0) in the boys under-14 and boys under-18 categories.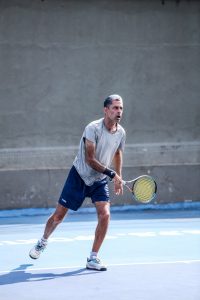 In other quarterfinal matches played in the boys under-14 category, Shashwat Mathiyan beat Samik Satardekar (6-2) to set up a meeting in the semi-finals with Vivaan Agarwal, who defeated Sairaj Narvenkar (6-0).
Punit Fadte also earned a place in the semi-finals of the boys under-18 category, trouncing Kabir Gadre (6-0), where he will square off against Shay Walke, who beat Gauraang Phutankar (6-1) in the quarterfinal match.
In the girls' under-18 quarterfinal, Vidhi Naik did not break a sweat in her victory against Kimberly D'sa (6-0), while Tithee Bhoomkar defeated Ahana Kumar (6-1). Gargi Oak also reached the semi-finals of the girls' under-14 event by knocking over Kimberly D'Sa's challenge (6-1) in the quarter-final match.
In all, 126 tennis players have registered to participate in the BPS All-Goa State Ranking Tennis Tournament 2023, organised jointly by the prestigious BPS Sports Club in Margao and the Goa State Tennis Association (GSTA). The total prize money for winners of the various categories in the tournament is Rs. 70,000.
Comment