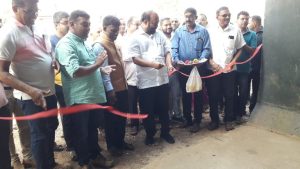 Goemkarponn Desk
CANACONA : Assuring more developments under the MPLAD funds in Canaocna, Rajya Sabha MP Vinay Tendulkar inaugurated a Sub-way (underpass on the Konkan Railway route) on Monday at Rajbhag – Kindlem in Canacona. A foundation is also laid for construction of the Palki Road.
Constructed at the costs o1.3 Cr, behind the Nirakar Temple, Kindlem, the subway is constructed on the traditional route/pathway where every year durng Mahashivratri celebrations, the Palaquinn (Palki) of Shree Mallikarjun Temple,Shristhal to the Rajbhag-Tarir beach.
The then president of Mallikarjuna Devasthan Anil Desai and other Mahajans have demanded with the Rajya Sabha MP Vinay Tendulkar that a subway road be constructed near the said dangerous railway trek to enable the smooth procession taking the Palki along.
After the construction of Konkan Railway Tracks, the traditional palki pathway had to cross the railway treks at Kindle on way to Devawada, Tajbhag-Tarir every Mahashivratri. MP Tendulkar after accepting the just demand, a subway was constructed at a cost of Rs 1 crore 30 lakh under the MPLAD funds.
Speaking on this occasion, Tendulkar said more development work will be done from the MP fund and an order has been given in this regard to certain other works in Canaocna, before laying foundation for the construction of the Palki road.
Canacona MLA and Speaker Ramesh Tawadkar said,that the BJP MPs of the entire country will go to the public for the next one month and get actamised to the problems and understand their(people) issues. 'MP Vinay Tendulkar has started it today from Canacona; 'Pavers will be installed by Canacona Municipality on the pathway leading to Rajbagh from Kindlem, wherethe foundation was is laid '.
Later, Tendulkar in the presence of Tawadkar also visited and inspected the house being constructed at Dhawalkhazan-Agond under the Shramdham concept where Karyakartas were also addressed at a meeting and thereafter another meeting was held with karyakarta's at Muthal Sadolexm in the Saraswati Temple, A meeting with the activists was also organized at Khotigaon.
Canacona Municipal Council Chairperson Ramakant Naik Gaonkar, Councilor Gandesh Madgaonkar, Former Municipal Chairperson Prarthana Naik Gaonkar, Mallikarjun Devasthan President Vithoba Desai, Ex- President Anil Desai, Canaocna BJP Mandal President Vishal Desai, Nirakar Devasthan President Darshan Naik Gaonkar, were present on this occasion.
Ex-CMC Chairperson Mahadev Desai, Ex-ZP (Poinguinim) Dr. Pushpa Ayya, Ex- CMC Chairerpson Diwakar Pagi, Councillor Laxuman Pagi, bjP (South) Vice-Presiden Mahesh Naik, residents Pramod Naik Gaonkar, Rajnish Komarpant and others were also present.
Comment