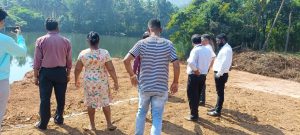 Goemkarponn desk
PONDA: Tense situation prevailed at Sonarbag Usgao over the construction of Bandhara on the Khandepar river.
Sonarbaag Usgao locals stopped Bandhara construction work on the Khandepar river, and machinery and labour moved to the site, following which Ponda Mamlatdar, Ponda PI and the police team rushed to the site to maintain law and order.
Sonarbaag Usgao Panch member Vinod Mascarenhas said locals opposed to proposed Bandhara on the Khandepar river, fearing floods in the Monsoon.

The locals gathered at the site where construction for the proposed Bandhara is finalised.
Rohan Naik, a local, said during Monsoon, the Khandepar river overflows, and the area gets flooded, and last time several houses collapsed during the flood.
"If Bhandara is constructed, locals would be forced to leave the area. Besides this, the area is prone to high and low tides; thus, if Bandhara comes here, then definitely people in low-lying areas would badly hit," he said.
He said already Curti-Khandepar Panchayat has opposed Bandhara at another end at Mudi Khandepar, and after the local's resolution and NOC also revoked by that Panchayat now the WRD want to work began from Sonarbaag Usgao side to which we had already cleared Usgao stand against Bandhara.

Peter Rodrigues, a local, said the work is stopped here. Last time also, mud transportation was stopped.
"We were asked by Sarpanch to take a decision in gram sabha, but before gram sabha, the WRD started work. Today the locals have stopped the work and asked to remove the excavation machinery at the site. The Rs 100 crore Bandhara cum barrage is planned to improve the water supply for Priol Constituency; however, locals, out of fear of flood in the Monsoon, opposed the Project," he said.
The locals said some two weeks back, the WRD officials held a meeting with villagers on the issue; however, most of the villagers opposed planning.
Comment