Locals oppose Karnataka based Chitrapur Mutt on Communidade land.
Locals questioned the presence and role of Narayan Navati at Chitrapur Mutt, who is MD of Human Research Development Corporation.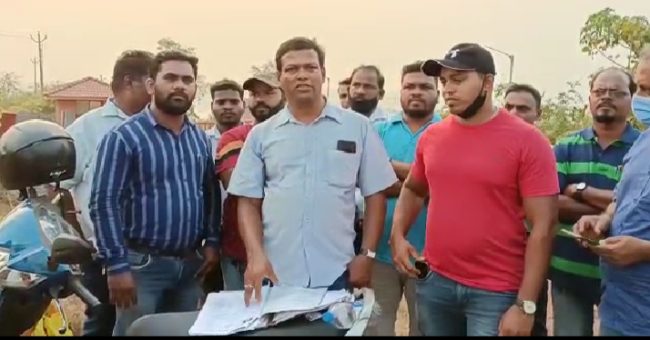 Goemkarponn desk
PONDA: Tense situation prevailed at Kundaim on Tuesday evening during inspection of Karnataka based Chitrapur Mutt, following which police rushed at the site.
Kundaim locals were furious over the security guard permitting only two locals and restricting their entry at Chitrapur Mutt during an inspection by Ponda BDO officials.
However, later all locals gained entry into Mutt after inspection BDO team left the site.
However, locals were irked to see Narayan Navati at Mutt and government vehicles.
Locals questioned the presence and role of Navati at Chitrapur Mutt as he is the MD of Human Research Development Corporation.
Questioning the presence of government official Narayan Navati at Chitrapur Mutt, locals gheraoed him and asked to clarify his presence in the Mutt. The locals demanded CM conduct his inquiry to visit this Mutt and the educational qualification he had submitted to the government to obtain a top post.
Locals said there is a need to verify his academic qualifications. Also demanded inquiry as to why he visits Mutt regularly.
Police safely allowed him to leave from the site.
Ponda BDO conducted an inspection of Kundaim Chitrapur Mutt following complaints by locals.
Locals said the Mutt registered at Karnataka and outside state registered Mutt cannot be allotted communidade land as per Communidade code. Locals alleged that in the name of the farmhouse, the Mutt has construction at the site with 11-meter height and an electricity transformer.
It may be recalled that Following directions by the Deputy Director of Panchayat South Goa, the Ponda BDO officials conducted a site inspection of Chitrapur Mutt at Kundaim.
There were complaints by locals against Chitrapur Mutt about illegal constructions at Kundaim plateau on communidade land, which is around 36000 square metres, without following legal procedures.
Deputy Director had directed the Ponda BDO to conduct a site inspection to verify any illegal construction and submit a report.
Locals said they would wait for the inspection report to take further action into the matter.
Comment