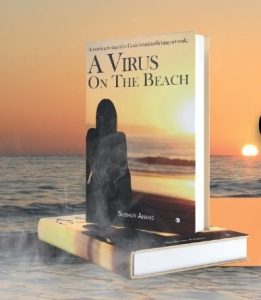 Goemkarponn desk
PANAJI: The very name "Goa" conjures up images of joy and merriment. Tourists from all walks of life flock here for the nightlife and the white-sand beaches.
Away from the bright lights and tidy streets, however, a heinous trade in the trafficking of young women thrives. There is no way to prevent it. Moreover, if one is foolhardy enough to try it, he risks death. Subhuti Anand's A Virus on the Beach is an unflinching look at the sex trafficking industry in Goa, which official reports confirm is the largest in India.
During the pandemic lockdown, two young women, one from Nagaland and the other from Nepal, who have been trafficked, meet a British tourist on the beach and ask for his help in escaping their bleak situation. Because of his immersion into a criminal underworld populated by gangsters and escort girls, the tourist is driven to extremes of desperation, including murder.
Subhuti Anand is a veteran journalist who covered politics while employed by the British Parliament. Osho, then known as Bhagwan Shree Rajneesh, was the controversial mystic he came to India to meet. Subhuti opted to remain in Goa during the nationwide lockdown imposed by Prime Minister Narendra Modi in March 2020 to combat the coronavirus pandemic. Subhuti defied the curfew by taking morning walks on Candolim beach, and it was there that he met two young women from North East India who were working at a spa hotel in Calangute.
Their experiences prompted Subhuti to pen the book A Virus on the Beach. He hopes to raise awareness of the plight of the thousands of women who are trafficked every year in India by gangs who operate with almost complete impunity by publishing this book.
A fictional account of a harsh reality.
Comment