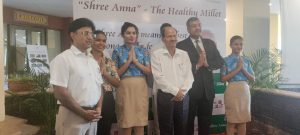 Goemkarponn desk
CANACONA: The Lalit Suri Hospitality Group (LSHG) has presented a month long food promotion 'Shree Anna', the Healthy Millet at The Lalit Golf and Spa Resorts, Rajbhag, Goa.
The LSHG, one of country's leading hospitality brands, had launched 'Shree Anna"- a pan India promotion of India's millets at The Lalit Golf and Spa Resorts, Rajbhag, Goa on Wednesday afternoon, and the Healthy Millet Menu will be available from 20th July to 20th August 2023.
"Under the visionary leadership of our prime Minister Narendra Modi, United Nations declared 2023 as International Year of Millets and in support of India's Millet Mission, LSHG has launched the 'Shree Anna" on a Pan India promotion at all the Lalit properties across the country including The Lalit Suri Hospitality School and Subros. The Super and Highly nutritious food 'The Healthy Millet Menu' can be experienced at The Lalit Golf and Spa Resorts, Rajbag , Goa from 20th of July to 20th of August 2023", The Lalit Chief Executive Officer Vivek Shukla speaking to the media soon after the launch on Wednesday.
"Shree Anna" means the best amongst all the food grains.
The Healthy Millet monthlong food promotion is launched at the hands of The Goa Agricultural Produce and Livestock Marketing Board (GAPLMB) Chairman and Ex-inister Prakash S Velip. Canacona Dy. Collector Ramesh Gaonkar, Canacona Mamlatdar Manoj Korgaonkar also attended the inaugural function.
Speaking further Shhukla informed that Millets, a home grown crop with diverse varieties are being promoted by The Lalit Group for their exceptional nutritional value and versatility. It (Promotion) aims to raise awareness about millets, their health benefits, and their importance in supporting the livelihoods of farmers'.
'There is an urgent need to popularise 'Millet' consumption for a healthy Life. Millet such as Ragi, (Nachni), Finger millet, Vari (or Proso Millet), used to be traditionally largely grown in our State of Goa, in every village and in over 100 hectares of land but it has become a rare commodity nowadays, and it is not grown not even in 20 hectares of land which is not even 0.05% of paddy fields.
The Lalit Healthy Millet Menu offers a wide range of millet-based dishes with different tastes and preferences, from Foxtail Millet, Barnyard Millet to Finger Millet and Kodo Millet, besides options such as Crunchy Edamame and Amarnath Salad, Thai Spiced infused Fostail and Pomelo Salad, Crunchy Quinoa Bites and Ragildlies amongst others.
Lalit Golf & Spa Resorts, Goa General Manager Ashoo Bhatnagar, Manager (HR) Guilherme Martin in the presence of different Chef's treated the guests to a sumptuous plated meal featuring a variety of millet-based dishes.
Comment