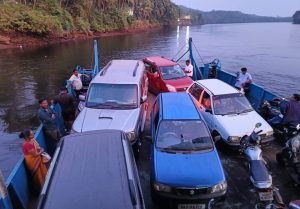 Goemkarponn desk
PANAJI: There doesn't exist a single day when commuters crossing river Mandovi from Surla, Maina and Volvoi village has to face hardship due to either breakdown or unreliable ferry-boat services provided by the Department of River Navigation.
One of the commuters working at Sesa-Goa who travels daily from this route via Ponda to Vedanta plant on the condition of anonymity shared her experience with Goemkarponn. She said, "I was travelling to Maina by morning 8.40 ferry this morning (Tuesday) when suddenly, after reaching the middle, the smoke started bursting out from the engine of the ferry-boat.
Ferry stalled for some time in the middle of the river. Everyone panicked as the ferry's speed saw an abrupt reduction followed by a halt".
"I'm confused as to whether the ferry operator should be thanked for driving the ferry towards the dock in the breakdown condition or not".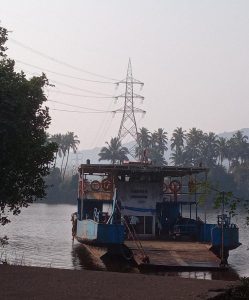 She added that the cleaner/helper was furiously questioning the office of river navigation on the call asking why the broken part was not replaced inspite of giving a prior intimation.
"Authorities are playing with people's lives by showing lethargy in maintaining the ferry boat promptly. This lethargy might have led to a major incident", she added.
Sudanshu K., a routine traveller and a worker working in the nearby Industrial Estate, said the breakdown might have been due to overloading the ferry was forced to encounter the previous evening (Monday). Sudanshu informed that the ferry has to go through the condition of overloading most of the time due lack of ferry boats on this route. He said, "Ferry boat on this route breaks down frequently. It must be less than a month since this ferry-boat has been brought back into the service after maintenance".
A Student, Prachi Shet, who studies at one of the colleges in Sankhalim, said they left this route because of frequent failure of the ferry service. "I used to travel to college via this route since this is the shortest route connecting Ponda to Sanklim. This ferry service saves a lot of time. But unfortunately, due to its non-punctual operation, I have given up travelling through this route for a quarter month.
A villager from Volvoi, D. Tari, informed that the ferry boat always operates with a delay. "It never operates as per the scheduled timetable. There is a reason behind this delay. Previously there used to be two ferries, one dedicatedly operating from Volvoi to Surla (2 min travel route) and another operating from Volvoi to Miana (15 min travel route). They stooped the operation of another ferry all of a sudden during a pandemic. We requested the Department of River Navigation to revoke its operation since it causes hardship to the commuters, but still, there is no action".
Comment