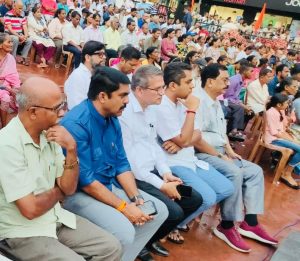 Goemkarponn desk
PANAJI: Goa Forward Party MLA Vijai Sardesai on Wednesday alleged that there is less democracy in Goa and the government fails to interact with the people, which force them to knock the doors of High court.
Addressing a Press conference, Sardesai said that as the government fails to interact and take people into confidence, the opposition to many projects is faced.
"Why government forcing people to knock on the doors of high court when the matters can be resolved by speaking to people. High time that people know that democracy is still alive," he said.
"We have less democracy here, it should be more responsive and more consultative. However, Transport Minister Mauvin Godinho says that there is too much democracy. I don't understand this…," Sardesai said, reacting to the reported statement of Godinho that people are enjoying too much democracy in the state.
He said that development works should be done by taking people into confidence. "Government fails to discuss with people and hence opposition is done. There may be some good government projects, but it should be discussed. There is opposition for Borim-Loutulim bridge (in South Goa) as people feel that it is being constructed for transportation of coal, and the government has failed to explain them," he said.
Citing an example, he said that when people want mobile phones, that time people can't oppose erection of mobile signal towers. "They are opposed when the government fails to explain them," he said.
"In every civilised democracy, the elected representatives and the government keep interaction with people, the more you interact, the less opposition you will face," he said.
Comment