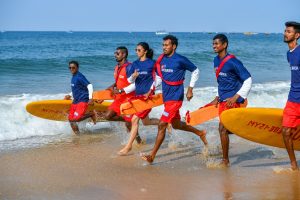 ~ Rescue incidents in Mandrem, Baga, Bambolim and Galgibag
~ Two missing minors reunited with their parents at Colva and Baga
Goemkarponn desk
Panaji: Mandrem beach witnessed three rescues over the weekend all involving foreign tourists – two ladies, one from Russia and the other from England and a male from Belarus. Goa saw three other rescues over the weekend, one each in Baga, Bambolim and Galgibag. Meanwhile two children were reunited with their parents.
A Russian woman aged 24 years was engulfed in a rough wave requiring the immediate assistance of Drishti Marine lifesavers Karan Tandel and Hiren Keluskar who secured the victim with a rescue board and brought her to shore on a jet ski. The other rescue involved a 35-year old English woman who was caught in a similar situation. The Drishti Marine lifesaver Vitorino Desouza launched a jetski and rushed to the aid of the lady and brought her ashore. A 33-year old man from Belarus was rescued by a Drishti Marine lifesaver Jatin Girap with the help of a surfboard when a rough rip current deluged him at Mandrem.
Two single rescues took place separately at Galgibaga beach and Baga beach, where at Galgibaga beach, a woman aged 28 years from Bengaluru was retrieved by Drishti Marine lifesaver Sudhir Ankolekar with a rescue tube after a change in water level caused her to panic, while a 25-year old man from Pune, was found struggling to escape the rip current in Baga beach when the lifesavers Sushant Kamble and Laxman Usapkar immediately rushed to rescue the man.
At Bambolim beach, a 69-year old man was rescued by Drishti Marine lifesavers after he was engulfed by huge waves resulting in a spinal injury. The victim was rescued in an unconscious state but regained consciousness soon after and was administered CPR. After recovering, the victim was taken to a nearby healthcare institute by the jeep stationed on the beach.
Two missing children, a five year old girl from Rajasthan and a seven year old child from Goa were located by Drishti Marine lifesavers at Baga and Colva beaches who handed them over to their parents.
Comment