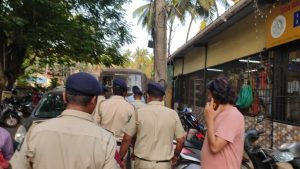 Goemkarponn desk
MAPUSA: In a significant development, the Calangute Fish Market attack case reached its long-awaited conclusion as the Additional District Court-I, Honorable Judge Mrs Kshama Joshi, pronounced the trio of Joseph Sequeira, Ceon Fernandez, and Mahesh Rampal, all R/o Calangute – Goa guilty of assaulting Tyrone Nazareth on that fateful night.
The conviction comes after a thorough investigation led by SDPO Mapusa Jivba Dalvi, who was the Police Inspector of Calangute Police Station in the year 2017 and subsequent prosecution by a team of skilled attorneys.
The accused have been sentenced to life imprisonment and a fine of Rs.10,000/- each.
The incident occurred on the night of 24th June 2017 at approximately midnight when Tyrone Nazareth was attacked by the accused individuals wielding a knife and chopper at the bustling Calangute Fish Market.
The assault left him with severe injuries, requiring immediate medical attention at the District Hospital in Mapusa.
Due to the victim's critical condition, the case was handed over to DYSP Jivba Dalvi.
However, the victim succumbed to injuries later. Their relentless efforts and the cooperation of the police personnel involved in the investigation played a pivotal role in bringing the case to a successful conclusion.
The accused persons were absconding after the crime, and a team of DySP Dalvi and others had nabbed them from the Mollem checkpost while attempting to flee.
Throughout the trial, the prosecution, represented by a formidable legal team, examined 19 witnesses to establish a strong case against the accused. The team of prosecutors included Public Prosecutors Adv. Miss Frances Narona, Adv. Sunita Nagvekar, Adv. Anuradha Talaulikar, and Adv. Roy D' Souza. Their relentless and meticulous presentation of evidence proved instrumental in securing the conviction.
The judgment, delivered by the Honorable Judge Mrs Kshama Joshi, marked the end of a legal battle that lasted several years.
The court's decision to convict the accused trio sends a strong message to the youth, as they committed the offence at the very young age of 22 years. It serves as a reminder that crime does not go unpunished, and society expects its youth to contribute positively rather than engage in criminal activities.
The successful conclusion of this case stands as a testament to the collaborative efforts of the law enforcement agencies, the prosecution team, and the judicial system. It highlights the significance of a dedicated and coordinated approach in ensuring justice is served. The conviction in this high-profile case has brought relief to the victim and his family while reiterating society's commitment to upholding the rule of law.
The investigation team was led by DySP Jivba Dalvi and consisted of ASI Subhash Malvankar, Constable Vidyanand Amonkar and other staff.
Comment