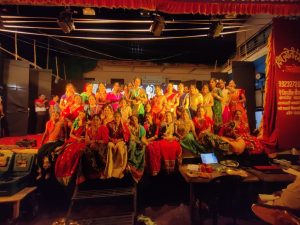 Goemkarponn desk
SALIGAO: It was a dream to return to the stage and performing art for the three veteran artists – Pradeep Padgaonkar, Shobha Padgaonkar and Anand Morjkar, as their mythological drama "Sampurna Ramayana" stage the stage on fire on Sunday evening at Saligao panchayat.
It was the dream return to the stage for the trio, albeit in a different role. The three veterans, who are acclaimed actors of their time, decided to join hands and present the drama Sampurna Ramayana.
While Pradeep Padgaonkar is the producer of the show, Anand Morajkar played his part as a director, while Shobha carried the responsibility of the assistant director. The three were ably supported by award-winning classical dancer Aaditi Morajkar. Aaditi is the daughter of Anand Morajkar.
In all, around 100 artists were part of Sampurna Ramayana, a 3-hour-long play.
A thrilled Pradeep Padgaonkar (alias PP) said he had no words to explain the response from the people.
"I would not say much but only would like to mention that 70 per cent of the crowd at Saligao watched the three-hour-long play standing on their feet as no more chairs could be accommodated in this small place," he said.
PP said he was a bit sceptical at the start of the play as there was initially a lukewarm response from participants.
"70 per cent of the actors were first-timers on the stage and were all at sea during SI's, but I decided to go ahead, and the entire play was set within 20 days," he says.
Anand Morajkar said he was happy people liked the show and the efforts paid off.
"It was a difficult task, but I, PP, Shobha and Aaditi decided to take this challenge, and the result is there for everyone to see," he said.
Padgaonkar also thanked Goemkarponn, which was the media partner for the show, for its support.
The Department of Art and Culture, Govt of Goa, has assured to support the show through their scheme.
Besides this, PP and has team have not taken funding from anyone for the show and have borne the expenses.
Saligao MLA Kedar Naik, former Tourism Minister Dilip Parulekar and Saligao Sarpanch Lucas Remdious were present for the play.
Comment