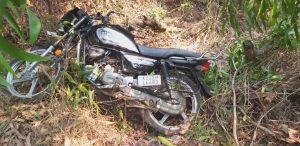 Goemkarponndesk
CANACONA – Two Youths from Karnataka were grievously injured after their motorbike went off the NH-66 road at the sharp turn at Shellim in Loliem-Polem village on Sunday evening.
According to sources, the two youths were proceeding to Karwar on a Hero Honda Splendour Motorcycle bearing registration no.KA22 HL-6483 lost control on reaching the sharp turn at Shellim. The motorbike went off the highway and hit a roadside tree, before falling down a steep gorge below. The duo whose names are provided as Shankru Amrapurkar and Nagesh Vodar reportedly suffered head injuries and multiple leg and hand fractures in the self accident. Some locals passing by saw the duo struggling down the road, tried to assist them and reported to 108 ambulance services, who shifted the team to Community Health Centre, Canacona and after that shifted to Margao.
Sources pointed out that the Sharp turn on NH66 at Shellim is a known accident-prone zone, and often the unsuspecting riders and drivers trying g to negotiate the sharp turn lose control ending up in a mishap. Sources also pointed out there are at least 10-12 significant accidents at the sharp turn, and 5-6 such mishaps were major or fatal.
Comment