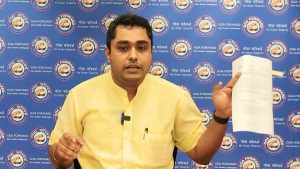 Goemkarponn Desk
FATORDA: Goa Forward Party (GFP) has written to the Chief Secretary demanding an urgent action to address the substandard rice distribution issue.
"Recent reports and media coverage have brought to light the abhorrent conditions in which the rice has been distributed, infested with maggots, mites, and fungus. As responsible citizens, we are appalled by the negligence and lack of accountability demonstrated by the government in ensuring the provision of basic food security to its vulnerable population," said GFP Leader Durgadas Kamat
He further said that the findings revealed through newspaper articles have exposed a grave failure on the part of the Civil Supplies Department to ensure the quality of the rice being distributed. It is disheartening to note that even after such distressing incidents came to light in April 2023, the authorities have turned a blind eye to the issue, allowing the distribution of substandard rice to continue in May as well.
"This blatant disregard for the health and well-being of the ration cardholders is simply unacceptable and warrants immediate and decisive action," he added
"The stories of ration cardholders finding maggots, mites, and fungus in the rice distributed to them depict a complete breakdown of the system. The very purpose of the fair price shops and the ration card system is to ensure that essential food items reach those in need, especially the poor and vulnerable sections of society," he added
However, Kamat said hat t is evident that the system has failed miserably, leaving people to suffer the consequences of this gross negligence.
"Furthermore, the allegations made by Fair Price Shop Owners Association President Gandhi Henriques highlight a much deeper problem. The fair price shop owners, who play a crucial role in the distribution process, have expressed their frustration and helplessness," he added
Kamat also said that They have raised valid concerns regarding the financial burden they bear in transporting the substandard rice back to the godown and the absence of payments under the Pradhan Mantri Garib Kalyan Yojana for the free distribution of food grains. These hardships, coupled with the operational challenges introduced by the POS machines, have pushed many fair price shops to the brink of closure.
Comment