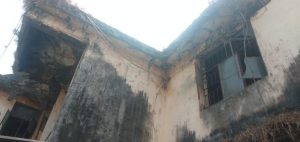 Goemkarponn desk
PONDA: With no solution from Government, around hundred vendors and shopowners risk their lives to conduct business in the 30-year-old Usgao dilapidated PDA Market Building.
Vendors said the building was on the verge of collapse with no proper maintenance wood for 30 years. However, they have no option but to conduct business under this structure to feed the family.
Market structure has become weak and dangerous for conducting business and could collapse anytime, vendors said.
The ground plus-one-storey PDA Market building was constructed and inaugurated in 1992 by former Ponda MLA and Chief Minister Ravi Naik.
The building has around 36 shops beside fruit and vegetable vendors sitting on the ground floor for conducting business.
The hall on the first floor is abandoned due to lack of maintenance, which has led to leakages to the roof and makes the condition dangerous.

With the years passing by, the building condition turned into a ticking bomb.
The aged vendors conducting business on the ground floor of PDA Market said Government had almost abandoned the building. Nobody even charges sopo taxes from them.
"There is a need to shift temporarily to a safer place until a new shed is constructed. But then Government should find a solution to our problem. We are ready to shift," they said.
Another vendor said she has been doing business since Market was inaugurated in 1992. She said the building is now dilapidated due to a lack of proper maintenance over the years.
"Some six years ago, the Vendors had protested against government negligence. We were assured a new market shed, but nothing has been done so far. We fear to conduct sit on the ground floor as often plasters of roof fall," she added.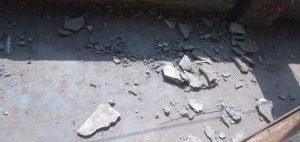 One can clearly see rods of beams and columns are fully rusted plasters of the roof, often falling off.
A hotel owner said one week ago that, luckily, he escaped unhurt as a huge portion of roof plaster fell on the table.
Local Nyan Naik said that looking at the weak market structure, it is clear that vendors are risking their lives to earn a livelihood, but before an untoward incident, Government should repair the Market.
According to one Panchmember, considering the importance of the Market, the Local Usgao Panchayat had approached PDA. However, PDA asked Panchayat to deposit Rs 40 lakh to hand over the Market.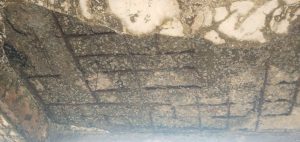 Local Usgao Ganjem Sarpanch Narendra Gaonkar said a proposal for the construction of the new Market has been forwarded to Government. The Government Authorities had promised vendors to put metal sheets on the roof of the building to protect against leakages.
He urged local MLA and Health Minister Vishwajit Rane to look into the matter.
Comment