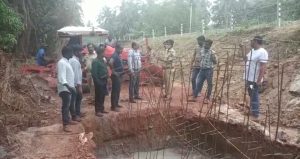 Goemkarponn desk
VELSAO: Velsao villagers on Monday accused the railway authorities of burying their traditional storm drains while indulging in construction activity in Velsao.
Many villagers arrived at the site and confronted the Railway authorities. Sensing a tense situation, Verna police arrived at the site to cool off the tension between both parties.
Orville Dourado, founder member of NGO Goencho Ekvott, speaking to the media, said that the villagers had firmly decided to stay united and not allow the double tracking, come what may
"We had traditional access to quite a few residences, water bodies, and stormwater drains that are now buried during construction activity of the Railways. Today this is a gross injustice to the villagers, and while we never had issues, the railway works are seen to have created a mess. We have a traditional storm drain here of around 1.5 to 2 meters in height, and we also have another huge water body, almost like a lake, where our youth would catch shallow water fish during the monsoon season. According to the information provided, no environmental impact assessment (EIA) has been carried out on the stretch from Kulem to Vasco da Gama. This being a 'Special Project' should have been time-bound but is being taken up in bits and parts. We, the villagers, challenge the authorities and will not allow double-tracking activities here. The landlords who are actually victims are being asked by the Deputy Collector to show their land documents to prove their credentials, but the Railways which is constructing here, and no one in Authority is raising a finger," said Dourado.
"Even during Covid Pandemic, we had to repeatedly, time and again, people, especially senior citizens, were called at odd hours of the afternoon, at times without having their meals to prove their inheritance, as if we were the aggressors and not victims while this mostly senior citizens had to face the encroachers. We want to make it clear to the Goa Government that they are here to protect people and the environment as per the constitution of India and that the villagers are firm in their resolve that they will not allow double tracking here, come what may," said Dourado.
Comment