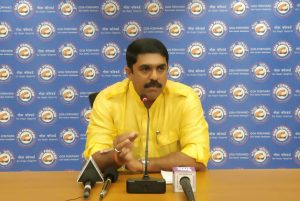 Goemkarponn desk
Margao:- Addressing the press today, Goa Forward Party president and Fatorda MLA, Shri Vijai Sardesai, highlighted several pressing public issues, and expressed serious concerns over development projects in the Fatorda constituency.
Referring to the chief minister's speech on Tuesday in which he claimed that Rs. 30,000 crores had been allocated to Goa by the central government, Sardesai pointed out that despite the substantial funds mentioned, there has not been any development at the Margao bus stand. He emphasised that Margao, being the commercial capital of the state, deserved a modern and multi-purpose bus stand that's in tune with the ideas of former Chief Minister Digambar Kamat.
Speaking on the Sonsoddo waste management plant, Sardesai drew attention to the accumulation of inert waste, which has now become a mountain. Expressing grave concern, Sardesai called for an urgent meeting of the High-Powered Committee to address the fate of the plant. It was previously decided that the plant would be handed over to the Solid Waste Management Authority, and Sardesai wanted clarity on the current status.
Sardesai also voiced his opposition to the proposed conversion of the South District Hospital in Fatorda into a private medical college. He pointed out the fact that the people had not demanded a medical college, and had instead, desired a fully equipped hospital. Sardesai expressed his reservations about private capitation medical colleges, underscoring the fact that Goan students are against such institutions. He also demanded of Digambar Kamat to clarify whether he supports the proposed medical college. Sardesai said that Govt should instead work towards getting an AIIMS in South Goa District Hospital on priority.
In addition to these specific concerns, Sardesai raised other critical issues, including the need for a power substation in Fatorda to eliminate frequent power outages. He also reiterated the necessity of constructing a ring road at Borda and the importance of advancing the multipurpose college project.
Vijai Sardesai's press briefing highlighted issues that needed immediate attention from the government. He touched upon infrastructure development, waste management, healthcare, and power supply, all of which directly affect the everyday lives of the people of Goa. However, It remains to be seen how the government will respond to these issues and whether appropriate measures will be taken to address the concerns he expressed.
Comment