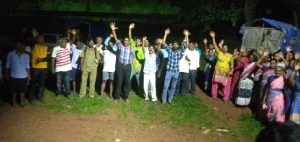 Goemkarponn desk
PONDA: The Bhoma villagers have challenged PWD Minister Nilesh Cabral to show his power point presentation on ground at Bhoma and not to present in his office.
They rejected claim of minister Sudin Dhavlikar and said that bypass not posdible.
Villagers said they are not kids and are desperate to save village.
The furious Bhoma villagers said that government should not take them for granted.
"If they want highway expansion, they will have to face villagers first," they said.
The villagers in public meeting, including young, elderly and women said "we are out to die to save our houses, village and temple. Don't take us for granted, if the government forces highway expansion from village than villagers are ready to do or die".
Sanjay Naik alleged it is clear the government working to protect lands of landlords by bulldozing houses and temple.
Senior Citizen Suresh Gaude recalled how BJP leader and former CM Manohar Parrikar had assured them to give a bypass.
He said in temple premises former CM Parrikar had said that with houses and temples on side of road, highway expansion was not possible.
Comment