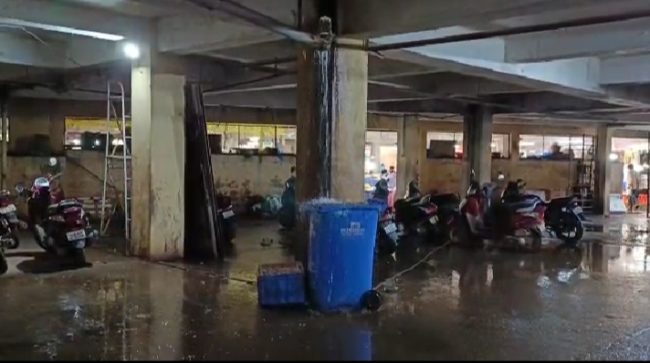 Goemakrponn desk
PONDA: As drainage pipes are damaged at various places in Ponda Market Complex, the Ponda Market Basement Parking turned into a waterfall.
The rainwater accumulated on the Mezzanine floor is seen gushing into basement parking as drainage pipes are damaged at various places.
Social Worker Viraj Sapre said the PMC need to take urgent step to repair the drainage pipes so that water accumulated in the Market complex flows into the nullah at the Market.
Viraj said this is a parking area water accumulated needs to be adequately drained into the gutter; otherwise it could invite Malaria. Similarly, some vehicles dumped in the Market area should be removed. The grills put on drainage and gutter system are disappeared at basement Parking. Viraj said PMC should immediately take urgent action and solve the problem.
Comment