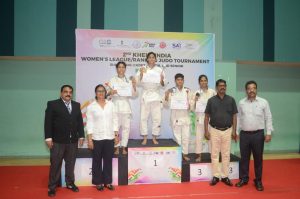 Goemkarponn Desk
PANAJI: Gujarat, Rajasthan and Madhya Pradesh were at the thick of action, leading the top three positions in Junior Girls category rounds on the penultimate day of action at Indoor Stadium, Campal, Panaji.
While day one and two belonged to Maharashtra, day three unfolded a different script.
Judokas from Gujarat put up impressive performances to secure 2 Golds, 3 Silver and 1 Bronze medal for their State at the ongoing 2nd Khelo India National Women's League Ranking Judo Tournament 2023 (West Zone).
Judokas from Rajasthan and Madhya Pradesh too had a good outing, with Rajasthan bagging 2 Golds, 1 Silver and 3 Bronze medals, closely followed by MP with 2 Golds and a Silver.
Goa's Winzia who had won a Silver in cadet Girls on the previous day, extended Goa's haul to three medals by winning a bronze in Junior Girls +78 weight category. Nidhi Yadav (-48kg, MP), Ketki Gore (-52kg, MAH), Shahin Darjada (-57kg, GUJ), Himanshi Tokas (-63kg, MP), Vanita Meniya (-70kg, GUJ), Shruti Uniyal (-78kg, RAJ), and Garima Chouhan (+78kg, RAJ) secured Gold medals each. Judokas from seven states namely – Maharashtra, Rajasthan, Daman & Diu, Chhattisgarh, Madhya Pradesh, Gujarat besides hosts Goa are participating in these championships which will conclude on February 4 where the senior women will compete for 28 medals in 7 weight classes.
Results in detail:
-48 kg: Gold: YADAV, Nidhi MP; Silver: DODIYA, Sonalben GUJ; Bronze: BHOSLE, Mithila MAH & DESHPANDE, Shaina MAH
-52 kg: Gold: GORE, Ketki MAH, Silver: VATS, Isha Rani MP, Bronze: PATIL, Vaishnavi MAH & SOLANKE, Ashwini MAH
-57 kg: Gold: DARJADA, Shahin GUJ; Silver: PRIPROTAR, Mayuri GUJ; Bronze: CHOUDHARY, Anisha RAJ & SARKAR, Parvati CG
-63 kg: Gold: TOKAS, Himanshi MP; Silver: SARAN, Pooja RAJ; Bronze: RANAWAT, Uditansha RAJ & RATHORE, Ishita RAJ
-70 kg: Gold: MENIYA, Vanita GUJ; Silver: VAJA, Ritu GUJ; Bronze: CHAUDHARY, Divya GUJ & JAMBULKAR, Unnati MAH
-78 kg: Gold: UNIYAL, Shruti RAJ; Silver: PATIL, Sanskruti MAH; Bronze: BAMNODKAR, Swarda MAH & JADAV, PALLAVI MAH
+78 kg: Gold: CHAUHAN, Garima RAJ; Silver: GAIKWAD, Sanika MAH; Bronze: WINZIAH, PEREIRA GOA
Comment