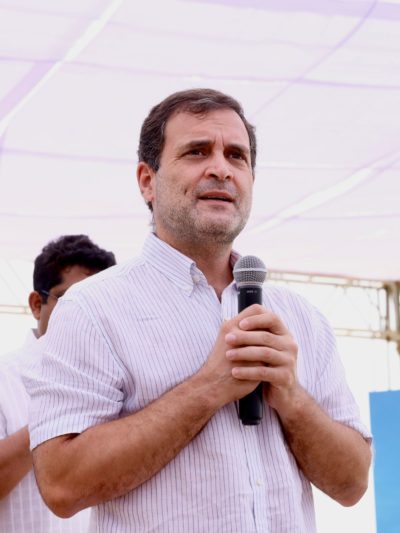 Goemkarponn desk
VELSAO: Congress Leader Rahul Gandhi today said that whatever goes in our manifesto is a guarantee and not only a promise.
"Whatever goes in our manifesto is a guarantee, not only a promise; we fought elections in Chhattisgarh and promised to waive the loan of farmers, and we did it. You can go and confirm it in Punjab, Karnataka also," said Gandhi.
He further said that during the UPA govt, international fuel prices reached $140 per barrel while today fuel prices are much lower in the international market but still you pay more.
"Today India taxing fuel highest in world. If you look carefully, there're 4-5 businessmen who are benefitting from this," said Rahul Gandhi.
Gandhi further said that his credibility was essential for him.
"I am very interested in listening to what's in your heart, what is in your mind. As far as what our strategy is for Goa, it is to become the voice of the people of Goa
and to protect your interest. When I say something, I will make sure it happens in Goa because if I come here and say I will not allow coal hub in Goa and then don't fulfil and then come to Goa again, there would be no credibility left," he said.

"I promise that there would not be any further pollution and degradation degradition in Goa," he said.
The Congress leader emphasised that the party wants to safeguard the interest of Goa and protect its environment.
"We want to protect your interest. If it doesn't benefit Goa, we don't want it to be a coal hub," Rahul Gandhi said.
Rahul Gandhi promised to work towards protecting the environment of Goa and said, "My mother comes here when she is unwell. She takes benefit of your beautiful sea. We are protecting the environment of Goa and India."

Meanwhile, other Congress leaders said that their party wants to restore prosperity to each of these troubled fisherfolk & the distraught citizens of Goa.
Gandhi's visit assumes significance as the Congress is gearing up for the state Assembly polls next year.
In the 2017 Goa Assembly polls, the Congress had won the highest 17 seats in the 40-member House, restricting the main opponent BJP to 13.
But, the saffron party moved to ally with regional parties and came to power under the leadership of Manohar Parrikar, now deceased. The Congress had accused the BJP of "stealing" the mandate, a charge the saffron party rejected.
Over the years, the Congress's strength in the state Assembly dwindled to four after many of its MLAs switched sides and joined the ruling BJP.
Comment