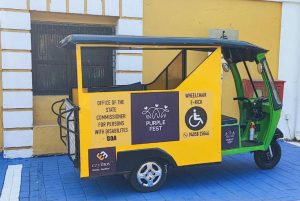 Goemkarponn Desk
PANAJI: Persons with Disabilities (PwDs) can now travel at ease around Goa thanks to the initiative of the Office of the State Commissioner for Persons with Disabilities.
The wheelchair-accessible e-rickshaw service launched last month at the hands of the Chief Minister of Goa, Dr.Pramod Sawant and Mr.Subhash Phaldessai, Minister for Social Welfare, Archives & Archeology, River & Navigation and has been a distant dream for Persons with Disabilities (PwDs) and their families.
Now this service will facilitate movement of Persons with Disabilities (PwDs) with ease and can also accommodate two more persons to accompany the wheelchair user.
The Commissioner for Persons with Disabilities, Mr.Guruprasad Pawaskar believes that Wheelchair accessible e-rickshaw service is a step ahead in making Goa accessible for persons with disabilities. We are working efficiently on taking initiatives to create an inclusive society and have appealed to the families and caregivers of PwDs to use this service."
An impetus through the first-of-its-kind Purple Fest that was hosted in Goa, these e-rickshaws which were first seen at the Fest in January 2023, has been commissioned in Goa to ease travel woes of PwD during the event. Reducing transport barriers and allowing wheelchair users to move out of their homes, has been a distant dream for PwD and their families. But, a wheelchair-accessible e-rickshaw service, launched is like a breath of fresh air.
An author, poet and artist living with cerebral palsy Frederika Menezes states that the wheelchair accessible e-rickshaws is one of the nicest things to have happened to someone like her – a wheelchair user. It signifies independence as far as travel within the state is concerned. This service has been a long pending initiative that was desired for and is now a reality. Otherwise dependent on family to travel, it is no easy task she says to travel in a car for those who use wheelchairs and often because of such difficulties involved in transportation of the person and placing the wheelchair in the car and having help to assist the person becomes quite a tedious effort".
Frederika Menezes applauds the Office of the Commissioner for Persons with Disabilities, Goa for the tremendous support extended towards PwDs in Goa through the service launched in Goa. Till date about 197 PwDs have benefited from this service launched recently. All drivers are sensitised on the safety of the mobility impaired.
Commissioner for Persons with Disabilities, Guruprasad Pawaskar further adds that "It is important to have trustworthy accessible transportation solutions. Goa is moving forward with making life easy, accessible with use of technology for PwDs.
Now on, PwDs can be a part of social events (inclusivity) and more, without missing out on anything and enjoying and being part of society like others. The service is available from 8 a.m. to 8 p.m.
Comment