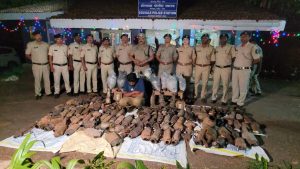 Goemkarponn desk
MAPUSA: On Monday, the rarest theft case in Goa, known as "WHITE GOLD RUSH, was cracked byColvale Police Station.
The element of platinum, which is extracted from the catalytic converter of four-wheeler vehicle silencers and is having wide demand in the international market, have been seized by Colvale Police.
The accused, Mohammad Parvez Yameen, s/o Mohammad Yameen Malik, age 31 yrs r/o Meerut Uttar Pradesh, has been arrested in this regard.
Total of 122 catalytic converters of four-wheeler vehicles silencers costing approximately Rs. 8000/-each, All worth Rs. 9,76,000/- and 66 kgs of Carbon/dust particles containing elements of platinum roughly Rs. 16,000/- per kg. All wr Rs. 10,56,000/- Total worth Rs. 20,32,000/- stolen from the four-wheeler vehicles in the State of Goa and Maharashtra have been seized and taken into custody.
The arrested person is found involved in stealing the catalytic converter of four wheeler vehicle silencer and further extracting elements of platinum from the carbon/dust from said silencers and selling it to dealers in Pune and Delhi who intern process it into platinum metal and sell in the international market at a high cost.
The investigation team was under the supervision of SP North Shri. Nidhin Valsan IPS and SDPO Mapusa Shri. Jivba Dalvi SDPO consisted of PI Colvale PS Shri. Somnath Mahajik, PSI- Mandar Parab, PS-Kunal Naik, HC-Rama Naik, Anil Shetye, Sudhir Parab and PC-Sulesh Naik, PC- Suraj Redkar, Shalak Kalangutkar HG-Ramakant Kumralkar.
The process of identifying the person involved the rackets is in progress.
Further investigation is in the process.
Comment