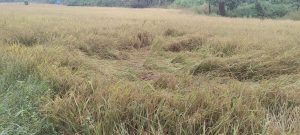 Goemkarponn desk
CANACONA: 'The Paddy fields we have cultivated with so much work and inputs of finances, are being constantly destroyed by wild boars at a time, the fields are ready to harvest', complained Savio Fernandes of Agonda.
Fernandes informed that it's been almost a month now, an unknown number of wild boars enters our fields and creates a ruckus of sorts with the paddy, which is ripe and they are waiting for the arrival of the specialised machinery to carry out the harvesting in their fields.
"The wild boars are unstoppable and mostly flock to the fields at night time, making it a challenge to protect our crops, which is protected with great difficulties. More than what is being eaten, the Boars and sometimes even bison destroys the crop by stamping and squatting in the fields.
Incidentally, Fernandes Paddy field with wire fencing is situated on the edge of a hillock on one side and at the banks of a rivulet on the other side. As such not only the wild boars and bison, even other forest animals descend the hillock for river water, but also end up destroying the paddy fields coming on their paths.
Asking for forest departments help, to stop the menace which according to Fernandes it has doubled this year, in the area also destroying many other paddy fields, says, besides having the barbed wire Fencing is also burning plastics as advised by co-farmers to deter the wild boars and bisons from entering the fields but to no avail till now. Farmers in the area also demand compensation for the losses they are incurring due to wild boars causing destruction of paddy crops.
Incidentally, Farmers in Gaondongrim , Khotigao and Shristhal, besides the north-eastern parts of Poinguinim are also facing similar challenges to protect their paddy crop, which is ripe and ready to harvest. 'The Paddy destroyed at this stage cannot recover, so it's totally a loss to the farmers', informed Gaondongrim former Sarpanch Rajendra Velip.
Paddy is the main source of livelihood to many of the farmers , who continue to cultivate their fields in an era, where many farmers had stopped farming.
Himself a farmer, an ex-sarpanch of Khotigao village stating most of the areas at Baddem, Yedda, Kuskem and others areas are soft targets for wild animals including Peacocks, and other birds, informed that government should utilise funds to carry out electric fencing to dissuade and minimise the wild animal from attacking paddy fields.
It may be recalled, that recently a herde of over 12-15 young bisons while a crossing the village road to Agonda was sighted by motorists, besides many motorists are known to encounter group of Wild Boars also in various parts of the taluka.
Comment