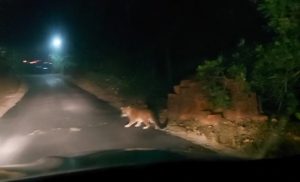 Goemkapronn desk
CANACONA: Wild-Cats are roaming dangerously in a residential locality, targetting pets and dogs, terrorising residents at Agonda in Canacona.
According to residents of Betul- ward in Agonda village, Leopards and Cheetahs have become very active and move freely in their vicinity, taking away their pets and dogs even in broad daylight, and frequent the village street just as early as evening twilight.
"People have even sighted a stripped Tiger foraying in our areas on several occasions. Sometimes it is so fearful of coming out of the house just after dusk, as most of our houses are located just across the road, and Leopards and Cheetahs are openly seen roaming on the road", informed a concerned resident Seby, whose Dog caged at the night time was attacked by a leopard in the past.
"It was 9.45 pm on 24th December night, when we had just started our Car to go for Christmas mass, that we saw a fully grown leopard walking majestically on the road ahead of our Car. We slowly drove behind it, recording the Leopards walking fearlessly in front of our Car, with the Leopard just stepping into a road-side bush a little later", informed another resident who caught the wildcat on his mobile cam.
On 25th, the Leopard attacked and took away a dog from a neighbouring house from where it was sighted the night before.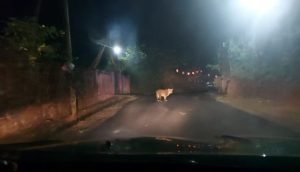 "We have encountered almost all types of Wild-Cats in our areas, and it's almost a daily affair, even as we feel it's very unsafe not only to allow our children to be out of the house but also finds ourselves very much afraid to step out of the house in the late evenings', informed Melvyn, who for the clicked pics of another leopard, a smaller one (than the seen on 24th night) on mobile just about 7.30 pm on Monday, while riding his bike to go for a Roce function in the village. It swiftly fled away.
"We feel Leopards and Cheetahs are constantly foraying our areas, and this is very unsafe for humans safety as well," informed another resident, Braz Fernandes.
Incidentally, if residents are to be believed, several of their pets, including Dogs, Cats, Fowls and even Piglings, have been taken away, some of them in broad daylight or just after dusk.
"It will not be less than over two dozen of our Pets have been taken away by these wildcats. Even though it's nothing new to see wildcats in our areas, what fears us most is the anxiety of whether these wildcats will also attack us, humans, as the frequency of their attacks on pets has increased for the past 6 months," he added.
Forest officials were being regularly informed, but the traps set up by the Forest department failed to nab even a single wild cat in the locality.
Locals say there are not less than a dozen Wild-Cats of different types, like Leopards, Cheetahs, and even tigers, that frequent Betul -Mudkud locality, which is partly covered with dense forests and a River on one side.
It may be recalled that three Leopards together roaming on the village road were caught in a CCTV camera at Betulward a few months ago, with one of them attempting to attack a Dog caged in a Dog-house. 'Forest department, when informed, had set up a trap-cage three times to trap the Leopards but were unsuccessful in trapping any for over a month.
When contacted, a Forest official stating they had received intimation of re-attacks at Betulward (Agonda) claimed they had applied for permission from their higherups to set up traps at Betulward following the escalation of Wild-Cats attacks, and a different set of traps would be set up once permission is received.
Comment