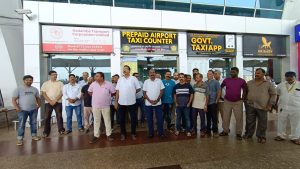 Goemkarponn desk
VASCO: Members of the United Taximen association, a body of Yellow black taxis, on Monday morning, addressed a press conference stating that their business was badly affected at the Dabolim Airport in recent times
Speaking to the media Anand Pednekar said that many flights had been diverted to Mopa Airport leaving them with less business.
"We want assurance from the Government that both airports will co-exist because maximum flights have been diverted to Mopa Airport. Secondly, besides international, even domestic airlines are shifting there leaving us with very less passengers to cater to around 350 taxis " said Pednekar.
Another member Eknath Palkar said that Touts was a bigger Menace
"We have so many touts here who come and pull passengers even when they don't have taxis. They arrive here in hundreds and fight and even threaten people here. These touts need to be cleared because there could be chances that they misbehave with women and we may be blamed," said Palkar.
General secretary Prasad Prabhugaonkar said that Goa Miles was also eating their customer.
"Goa Miles is an app based on mobile but they have put their rate list on the counter next to ours and are soliciting our customers. They are not supposed to have their Rate list since it's an online application but no one takes action on them," said Prabhugaonkar.
"We also have a large number of Rent a cab who come here in hundreds and operate illegally from here. They are supposed to operate from their office but they come in the open and the police do nothing. We have complained so many times but the police give us an excuse for the shortage of staff. We will be forced to agitate on a large scale if no action is taken," said Prabhugaonkar.
Prabhugaonkar also requested the Transport department to give them a renewal of digital meters at Rs 500 since they were already paying counter fees, GST, Royalty and other charges besides being a prepaid operator.
Comment