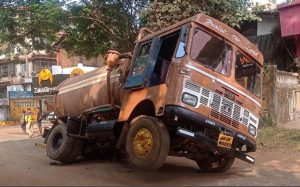 Goemkarponn Desk
PANAJI: In a repeat of the similar past incidents, yet another road in Panaji caved in while a tanker was passing along it.
The vehicle tilted sideways on the road and suffered damages, however no one has been injured in the incident. This is the s10th such incident in the past one month or so, at various sites of the ongoing Start City works.
The rear tyre of a tanker travelling along the St. Inez area was trapped in the 'caved in' road. The area had been dug up to carry out sewage works.
The driver of the truck managed to escape without injuries. The commuters however were left stranded on the busy road due to the resulting traffic jam.
"With substandard work done, the Bharatiya Janata Party Chief Minister, Pramod Sawant should now issue smart notifications that only two wheelers and light motor vehicles are allowed in Panaji city as heavy vehicles are seen caving in, time and again," the Congress party added.
The residents of Panaji are facing a difficult time while commuting around the city due to the unplanned digging and road closures.
The city roads have been dug up for laying new sewer lines and reconstruction of drains. The works have led to at least six cave-ins so far. The works are supposed to be completed before the monsoon to prevent flooding.
Facing flak for the haphazard digging in the city and the resultant chaotic traffic, the City Mayor, Rohit Monserrate has already inspected the ongoing Smart City works.
Comment