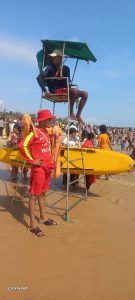 Goemkarponn desk
PANAJI: Enthusiastic youngsters have now been roped in by Goa's state appointed lifeguard agency, Drishti Marine, to assist its lifesavers on the beaches with regards to crowd control and first aid, as part of its newly implemented local volunteer program.
The volunteer programme, which involves local community members in beach safety efforts, is designed for youngsters, mostly college students between the ages of 18 and 23 years. To avoid conflict with the student's college schedules, the volunteer program will be held on weekends, spread over two to five hours of service.
So far, 10 youngsters, seven women and three men, have been selected for the programme.
"The age group was selected because they are full of energy and enthusiasm that may be directed toward helping people on the beaches. While other countries have substantial volunteer programmes allowing their youngsters to demonstrate more responsibility towards their community. We wanted to give our youth a chance to be a part of a larger initiative which helps them give back to the community," said Navin Awasthi, CEO at Drishti Marine Lifesaving.
"With massive crowds on the beaches, these young citizens can now assist lifeguards in more crowded areas, thus allowing the lifesavers to attend to more pressing issues on the beach," he also said.
In order to assist the Drishti Marine lifesavers, volunteers will be stationed at high-density beaches such as Calangute, Baga, Miramar, Bambolim, Siridao and the Dudhsagar waterfalls. The volunteers have been trained to respond to first-aid emergencies, as well as to recognise various sea conditions and support lifeguards in patrolling and surveillance the beaches.
The volunteers will also be outfitted in special uniforms during their period of service. On completion of the number of hours, the volunteers will be given an honorarium for the services rendered and a certificate which they may add as part of their CV for future studies abroad or job prospects.
Comment