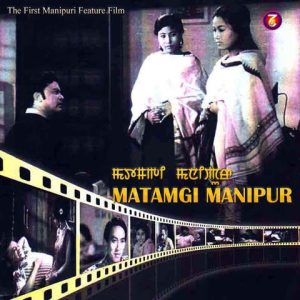 Goemkarponn desk
PANAJI: The International Film Festival of India (IFFI), Goa, the only 'A' grade international film festival of the government of India, is all set to showcase 10 Manipuri cinemas in honour of its golden jubilee year.
The 53rd edition of IFFI, which will be held from November 20 to 28 in Goa, will feature a special section on Manipuri Cinema.
The IFFI special Golden Jubilee Manipuri Cinema package consists of five feature films and five non-feature films, including landmark Manipuri films like 'Matamgee Manipur', the first Manipuri feature film released on April 9,1972; SN Chand's 'Brojendragee Luhongba', the first feature film directed by a Manipuri director; Aribam Syam Sharma's 'Ishanou', Manipur's most critically acclaimed feature film; Gautam Oinam's 'Phijigi Mani', the first Manipur video feature film to earn an official Indian Panorama Selection; and Haobam Paban Kumar's 'Loktak Leirembi', the first Manipuri digital feature film.
Among the non-feature films enlisted for the prestigious international film festival are Oken Amakcham's 'Ratan Thiyam: The Man of Theatre'; Ningthouja Lancha's 'Ilisa Amagi Mahao'; Borun Thokchom's 'The Silent Poet'; Romi Meitei's 'The Tainted Mirror'; and Ashok Veilou's 'Look at the Sky', said a release by Manipur State Film Development Society (MSFDS) secretary Sunzu Bachaspatimayum.
The secretary informed that National Film Development Corporation (under ministry of Information and Broadcasting) managing director Ravinder Bhaskar had on Tuesday conveyed that a special package for Manipuri cinema will be allowed.
Even though the I&B ministry wanted a Manipuri Cinema package of 2-3 Manipuri feature films at maximum, MSFDS persuaded the ministry to at least allow it to curate 10 films to make a respectable package to represent the 50 years' journey of Manipuri Cinema, Sunzu said.
As per the secretary, every year, IFFI showcases a collage of the best of contemporary and classical films from around the globe.
The festival welcomes an array of world renowned filmmakers, actors, technicians, critics, academicians and enthusiasts to celebrate cinema and the art of filmmaking through its presentations, Master Classes & Panel Discussions, Co-pro-duction Seminars, etc.
With a spirit to celebrate the art of cinema, NFDC aims at making the 53rd IFFI a breath-taking experience for the Indian and International film fraternity, the budding filmmakers and cinema lovers across the globe, the release added.
Comment