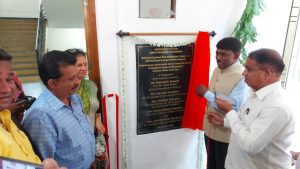 Goemkarponn Desm
CANACONA: Built at a cost of 9.5 crores of rupees funded by World Bank, Water Resources Minister Subhash Shirodkar inaugurated three disaster shelter home's at Chapoli, Nagarcem and Poinguinim on Wednesday.
The three Disaster Shelter Home's were taken up for construction by S by the Central Government in collaboration with the World Bank at an cost of 3 crores each for the Shelter houses built at Painginim and Nagercem and Rs. 3.5 crores at Chapoli.
Sarpanch Savita Tawadkar, Deputy Sarpanch Sunil Paingankar and other panchayat members were present at the inauguration ceremony of Shelter Home at Painginim.
Soon after the inauguration WRD Minister Subhash Shirodkar talking to media said that the maintenance of these Shelter houses should be done by the local citizens. 'Infact, maintenance of these Shelter Home's will be given to the local bodies Panchayat's and Municipality.
Similarly, if need be, these Shelter Home's can be utilised for locally operated schools and kindergarten'. He also congratulated the contractor as well as the water resources department officer for erecting the beautiful structure. Shirodkar also thanked the landlords responsible to donate the land for this architect.
It may be recalled that followig massive floods witnessed in Canacona in the year 2009, the concept of building Shelter houses was implemented and the construction of the same have been completed.
Speaker Ramesh Tavadkar said that this is a matter of happiness. Mrs. Savita Tavadkar said that the incident that happened in 2009 should not happen again in Canacona and assured that the structures will be fully maintained.
Deputy Sarpanch Sunil Paingankar said that he is happy now that the panchayat has got a big building.
On this occasion senior officers of water resources department Ankush Gaonkar, Patil, Karmarkar, BJP functionaries Vishal Desai, Mahesh Naik, Satish Painginkar, Vikas Prabhu, Damodar Shenvi, other five members of Panchayat, citizens were present in large numbers, at Poinguinim.
Comment