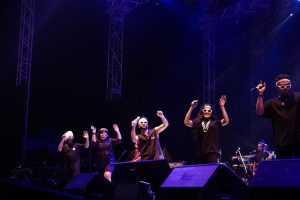 Goemkarponn desk
PANAJI: Over the past eight days, the city of Panaji resonated with the sights, sounds and myriad moods of the arts from across the South Asian region and the globe. Strains of music filled the air while discerning audiences watched experimental theatre, browsed books and paintings that showcased the region's cultural heritage, celebrated with artists and revelled in the immersive experience of the fifth physical edition of the Serendipity Art Festival.
Organised for nine days and spread across 14+ venues with over 170+ programs, and more than 1000 artists, the Serendipity Art Festival was held in association with GMR and supported by the Government of Goa, the Corporation of The City of Panaji, the Directorate of Art and Culture, Goa, the Entertainment Society of Goa, the Goa Tourism Department, and the Goa Forest Department, along with Technology partner Microsoft and Logistics Partner Delhivery.
The programming for this edition was spread across Exhibitions, Performances, Workshops, Public Arts, Children's programming, Talks & Book launches, and much more.
The Exhibition segment was curated by Sudarshan Shetty, Veerangana Solanki, Anjana Somany, Pramod Kumar KG, with special projects like Somewhere Ethereal by Mathieu Wothke and Terra Nullius: Excavations from Image 3.0 by Pascal Beausse and Rahaab Allana, along with Goa Familia by Lina Vincent and Akshay Mahajan. The festival also had other exciting special projects like 4×4: Four Galleries, Four Voices, represented by four galleries in Delhi (Shrine Empire and GallerySKE), Kolkata (Experimenter), and Mumbai (TARQ) showcasing current artistic practices from across the region. Some other exciting projects include a special archival exhibition by Dr. Jyotindra Jain and Jutta Jain-Neubauer.
The performance segment was curated by Bickram Ghosh and Ehsaan Noorani, who brought music from the far corners of the country and the world and experimented with its forms, causing powerful fusion performances. Quasar Thakore Padamsee, brought to the fore experimental theatre combining the classics and the postmodern screen plays along with children's theatre in collaboration with Ranga Shankara's "AHA! "Theatre for Children. Geeta Chandran and Mayuri Upadhya, curated a wide set of projects that had re-adaptations of Indian classics, contemporary themes and cultures.
Over eight days, the Serendipity Arts Festival sought to catalyse cross-cultural exchange, foster a sense of collaboration, and explore inter-disciplinarity in art forms whilst erasing regional divisions in the country. It also set up a platform that gave equal opportunities to artists, artisans, indigenous and folk-art forms, performers, and other creative practitioners from all over India and the South Asian region. The event also aimed to foster the development of thriving artistic communities across India by making the arts inclusive, educational, and accessible.
Comment