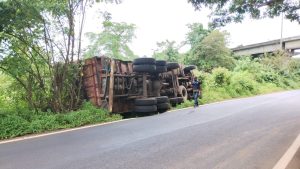 Goemkarponn desk
CANACONA: Having the flood-gates turned drainages into deep trenches on either sides of the Road, the NH-66 particularly at Padi in Barcem region has turned dangerous for the highway traffic.
A Cashew-Nuts loaded truck from Karnataka proceeding from Mangalore to Maharashtra, turned turtle after its tyre went into a roadside drainage while giving side to an oncoming bus in opposite direction on Sunday afternoon. Luckily, there were no human injuries, but the truck suffered damages to its Container separated from its body, the loaded bags/Sacks of Cashew Nuts came crashing and fell out.
According to some residents, the truck driver informed the truck skidded off the road, when he tried to give side to an oncoming Bus, as the roadsides have developed deep trenches in the roadside drainage due to rainwater flood-gates deepening across the area and the same have become very dangerous to the highway traffic.
Locals were critical that following similar incidents/mishaps in the locality In the past, they have through local body(Panchayat) have informed the PWD authorities of the road's precarious situation and even some PWD engineers have inspected the situation. 'After assuring us, that larger-sized Pipes would be laid on either sides of the Highway road (to keep the floodgates running through the drainage onto the paddy-fields on both sides, the engineers neve came back to carry out the works, and kept the area as vulnerable as ever for the mishaps to occur. Now, this is over a year ago and nothing is done as yet to take precautionary measures.', Mohan, the local resident.
'The recurring of similar accidents/mishaps at the same site more often due to the very same problem kept unsolved is very disheartening and uncalled for, as PWD/Authorities not only ignores the serious issue, but clandestinely put's everyone's life at risk. The accidents/mishaps at this location also destroy our cultivated fields, besides causing miseries to the vicitims and their vehicles. This problem can be solved without disturbing the drainages to the fields just by putting pipes on either sides, which will help to widen the road and avoid mishaps', informed Panch Devidas of VP Padi, stating even the panchayat has made requests to the authorities.
Panch Devidas also informed that the matter would be brought up again to the Highway authorities and government notice, as lots of mishaps are taking place because of this solvable problem and general public is harassed. 'The area fall under Canacona Highway engineers, and we will also approach these PWD engineers to hasten up the corrective works in Barcem section of NH66 ', informed another resident.
Comment