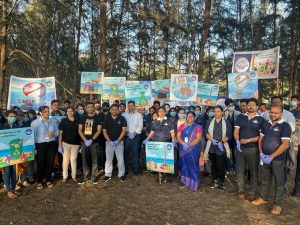 Highlight effects of Plastic on Environment Nearly 100 students and faculty members of Aakash BYJU'S from Goa enthusiastically participated in removing unwanted plastic waste from the famous Miramar beach in Panjim
Initiative is part of Aakash BYJU'S "Junk the Plastic" campaign with the focus: Reduce, Reuse, Recycle
Goemkapronn desk
PANAJI: In its continuous efforts to give back to the society, Aakash BYJU'S, the national leader in test preparation services, today kick started its "Junk the Plastic" campaign at the Miramar Beach in Panjim by removing unwanted plastic waste from the famous beach in the City. Plastic waste today is a major environmental hazard, more so for a place like Miramar, which sees an influx of thousands of visitors each day. The campaign intends to spread awareness about the effect the use of plastic has on the environment and how this can be mitigated by recycling wasted plastic into something useful.
The campaign began last week in Mumbai at the Juhu beach and this week the beach cleaning activity will be held in Panjim, Goa and Kozhikode, Kerala.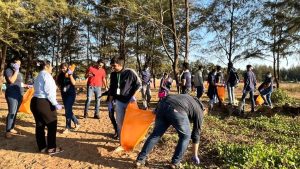 The Plogging activity was flagged by the honourable chief guest Shri Rohit Monserrate, Mayor of Panaji with the guest of honour Angel Fernandez, Commissioner of Panaji, and Ajay Gawade, Director of Sports & Youth Affairs who were accompanied by Mr Abhishek Kumar Sinha, Deputy Director, Aakash BYJU'S, along with other company officials
The initiative aims to instill behavioural change in the public while also inspiring young minds to recognize the importance of keeping the beaches clean through collective action.
Mr. Amit Singh Rathore, Regional Director, Aakash BYJU'S said, "At Aakash Byju's we feel a responsibility to help develop our students to become model citizens of tomorrow apart from helping them achieve their academic aspirations. To that end, we are delighted to be part of the efforts to clean Goa and contribute to the upkeep of our wonderful state while helping our students develop a love of nature."
Aakash BYJU'S intends to take this campaign to other coastal cities in India as well in days to come.
Comment