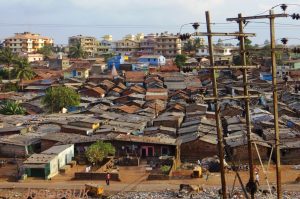 Goemkarponn desk
SANCOALE: Social Activist Narayan Naik has demanded action against Non-Indian Elements residing illegally at Zuarinagar, Sancoale, in various rented rooms, illegal Scrap yards & Some private properties that were illegally constructed on Sancoale Comunidade Land & other properties.
Based on the complaint, the Dy Collector Mormugao Ravishankar Nipanikar has directed Verna Police to take action in the matter.
"On my various complaints, the Collector South Goa had directed action regarding illegal occupants on 06/11/2020, but no action has been initiated by any authority," said Naik.
He said that now it is high time to act against Non-Indian Elements residing illegally at Zuarinagar, Sancoale, in various unauthorized rented rooms, illegal scrap yards & some private properties & some Sancoale Comunidade properties that were illegally occupied by these
elements by constructing illegal Structures on Sancoale Comunidade Land & others properties.
"List of the Properties Sy.No's. is already furnished at your office by the Mamlatdar vide his letter dt.29/072019
Additional to these Survey No's, there are more illegally rented rooms constructed in Sy. No.181/1 of Sancoale, i.e. behind the Ex Panch Member of Sancoale, Arish Kadar Father's Shopping centre/Complex," he said.
Naik added, "I also suspect that most of the open space area from Chowgule Property at Gadegal, Zuarinagar area have been illegally Occupied by PFI Groups, Global Terrorist Groups, Bangladeshi, Rohingyas, Afghanistan & other Non-Indian Elements by Constructing illegal Structures with the Support of local Panch Member & Sancoale Panchayat".
He said there is one structure that looks like Madrasa / Masjid opposite Kadar Shopping centre on the old main road leading to Zuari industrial estate (Sancoale Industrial estate) in Chowgule Sub-Division of Plots property.
"So the same has to be investigated. Latest, I saw more than 50 illegal structures constructed is going on in Sy. No.154/1 of Village Sancoale, very close to
Zuarinagar Police outpost & Police are not acting. I also suspect that most of these structures are constructed by PFI Organizations to give shelter to their Criminal elements," he charged.
The activist requested the Dy Collector to conduct a raid on all the illegal scrapyards established at Zuarinagar, Sancoale & also at hotspot area from Sy.No.181/1 , 144/1 , 136/1 ,154/1 & 181/1 of Village Sancoale where all illegal structures were rented to most of the Non-Indian Criminal elements.
Comment