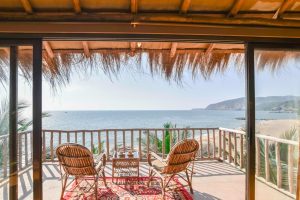 Goa had the largest share of Airbnb guest spending, economic contribution and jobs supported of any state in India.
In 2022, Airbnb contributed USD$108 million (INR 8.5 billion) in GDP, and 11,500 local jobs to the Goa economy.
Airbnb guests spent a total of USD$189 million (INR 14.8 billion) in Goa in 2022*.
Goemkarponn desk
PANAJI: New research from Oxford Economics found Airbnb is an important pillar of Goa's tourism industry, contributing over USD$108 million (INR 8.5 billion) to Gross Domestic Product and supporting over 11,500 local jobs in 2022* alone.
The report also highlighted the powerful multiplier effect Airbnb guest spending has within local communities. In India, Goa had the largest share of Airbnb guest spending, amounting to a total of USD$189 million (INR 14.8 billion) in 2022*, in areas like purchases on transportation, restaurants, retail stores, and retail stores.
Amanpreet Bajaj, General Manager, Airbnb India, Southeast Asia, Hong Kong and Taiwan said: "Goa is a highly sought-after tourism destination, and is one of the most popular destinations in India. We recognize the immense value of fostering tourism that is not just high quality but also sustainable and supports our Goan community. This report reaffirms the profound positive impact Airbnb guests leave on the local families, businesses and communities. As the backbone of Goa's economy, the tourism industry not only offers micro-entrepreneurship opportunities but also employs locals in various tourism related activities.
Moving forward, we are eager to deepen our collaboration with the Goa Tourism Department. Together, we aim to promote tourism that is both of the highest quality as well as fosters responsible travel practices, thereby enhancing the travellers' experience while simultaneously nurturing the local communities across the state.
Cheryl Gonsalves, a Superhost from Goa, has been hosting on Airbnb for over 2 years. Talking about her journey, Cheryl said, "I embarked on my hosting adventure in Goa, initially knowing very little about the intricacies of running a hospitality business. Airbnb proved to be the perfect platform for me to take my first steps, and since then, I've expanded to 8 listings in the city. Along the way, I've had the privilege of welcoming guests from all corners of the world, and I've been able to employ more local staff to ensure that my guests continue to enjoy the authentic local experience. Over the years, Airbnb has not only enabled me but has also empowered many hosts in Goa to achieve financial independence and has played an important role in promoting hospitality micro entrepreneurship in the state."
The report also found out that Airbnb in 2022* contributed over USD$920 million (INR 72 billion) to India's Gross Domestic Product and supported over 85,000 jobs. In 2022*, Airbnb guests spent a total of USD$815 million (INR 64 billion) in India, more than double of the 2019 levels.
This report presents results for the twelve month period up to and including March 2023, referred to as 2022*, which represents the first full year after the reopening of international travel. Prevailing exchange rates at the time of study were applied, using proprietary data from Oxford Economics.
Comment