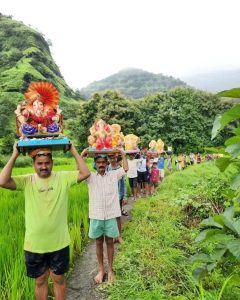 Goemkarponn desk
PANAJI: With an atmosphere of communal tensions prevailing, the lord of Wisdom – Ganpati Bappa Morya, arrived in Goan homes today.
Rain gods gave enough time for the last-minute shoppers even though there was a heavy rush in all major towns and villages in the State.
The last few weeks have been very challenging foe Goa as many statements were made by priests and leaders which did not augur well for the communal harmony in the State.
Chief Minister, Dr. Pramod Sawant extended his heartiest festive greetings to the people of Goa on the auspicious occasion of Ganesh Chaturthi traditionally known as "Chavath" in Goa.
Dr. Sawant in his message said, "The people will worship Vighnaharta Lord Ganesh, the remover of obstacles. The uniqueness and popularity of this festival are highlighted as the people of all religions, caste and creeds fervently participate in the celebrations, which in turn promotes goodwill, brotherhood and harmony in the society".
"This festival is the time of family reunion, when all the members of the family, wherever they may be, return to their ancestral home to celebrate Chaturthi. This Festival epitomises the unity and spiritual harmony of Goa.  May this occasion strengthen the bonds of brotherhood that have always existed among people of diverse traditions, in our State."
The Chief Minister further stated, "The State Government is implementing welfare and development programmes aiming at the well-being of all sections of people with the blessings of Lord Ganesha. The Government of Goa is on a mission to make Goa Swayampurna. With the blessings of "Vighnaharta" let us participate in making Goa Self Reliant".
"May the generous and auspicious blessings of Lord Ganesha be upon every individual and bring good health, and abundant happiness in everyone's life. May Lord Ganesha lead our State & nation on the path of peace, progress and prosperity.  Let us celebrate Ganesh Chaturthi with great joy and spread harmony," the Chief Minister concluded.
Goa Archbishop Filipe Neri Cardinal Ferrao of Goa and Daman warmly extended his heartfelt greetings on the occasion of Ganesh Chaturthi, which commences on September 19. In his message.
Fr. Ferrao underlines the significance of this festival, which symbolizes the removal of obstacles, the pursuit of wisdom, and the fostering of unity.
With the utmost respect and admiration for our Hindu brothers and sisters who observe the cherished tradition of Ganesh Chaturthi with unwavering religious fervour, devotion, and boundless joy, the Archbishop, in unison with the Catholic community of this Archdiocese, extends peaceful and heartfelt greetings to every member of the Hindu community within our beloved State.
Comment