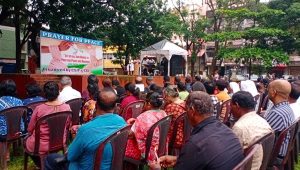 Goemkarponn desk
PANAJI: Prayer for Peace in Manipur was held on July 8 at 3.30 pm at Azad Maidan, Panaji, organized by the Council for Social Justice of the Archdiocese of Goa and Daman and Conference of Religious India ( Goa Unit).
The focus of the prayer meeting was that the violence in Manipur stops immediately as it is becoming increasingly evident that a peaceful resolution is urgently needed.
It was resolved to submit a Memorandum, signed by the people gathered, to the Prime Minister of India through the Chief Minister of Goa.
"Sir, you are aware that since May 3, 2023, there are as many as 50,000 people Internally Displaced Persons (IDPs), now staying in various relief camps." Says the Memorandum read by Sr. Gracy Rodrigues FDCC.
In the interest of the people of Manipur and all Indians, people of goodwill gathered at the Azad Maidan Panaji urged the Prime Minister through Memorandum to firmly set the Constitutional machinery in motion to restore law and order in the state of Manipur for return of Peace and Harmony and acting decisively by (1) Initiating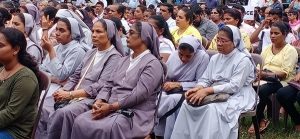 confidence-building measures involving all stakeholders, particularly women. from both the communities and compensating the affected families in a just manner (2) Ensuring a supply of essential commodities to the general public through the removal of blockades, etc. (3) Ensuring that the legitimate rights of all tribal people and minorities of Manipur are protected and promoted without delay. (4) Safeguarding that law enforcing agencies of the Centre and State discharge their duties fairly and impartially so as to instil confidence in the minds of the people and (5) Setting up an unbiased Central Reconciliation Committee of retired officials and distinguished civil society members to investigate everything that caused the explosive situation and propose measures to immediately stop similar human calamities in the future.
Memorandum also highlighted the plight of people suffering in Manipur: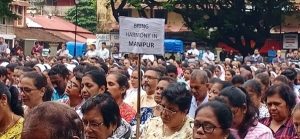 (1) That most people in the camps were daily wagers, ordinary people who lived from hand to mouth even when there was no trouble. In fact, when the situation improves, and they are allowed to leave, they have no homes to return to.
(2) With violence continuing unabated without signs of improvement in the security situation, children and young people are being deprived of education, and the educated youth are worried about their future.
(3) The relief camp inmates comprise people of all age groups, from infants to the elderly, even above 90 years of age. There are pregnant women, differently abled persons and persons with various sicknesses. Yet living conditions are only shed better than those beggars on the streets, without sufficient clean drinking water, proper sanitation, etc.
(4) Quality of food provided, mostly by well-meaning citizens and civil society members, is not sufficiently rich to take care of the health of infants, elderly people, and pregnant and lactating mothers, as the primary motive is to feed for survival.
(5) Most importantly, though it is now more than two months since the problem surfaced, there are no signs of Peace and normalcy returning in the state; therefore, a general sense of insecurity prevails amongst the people of both communities and a section of them are taking the law into their own hands.
People requested the Prime Minister to share their concerns and intervene to ensure that the Government of Manipur and the Government of India make all efforts to restore Peace and Harmony in Manipur and elsewhere.
Prayer for Peace was led by the Seminarians of the Mission Seminary of Pilar.
Fr Peter De Melo, vice-president of CRI (Goa Unit), explained the purpose of the Prayer for Peace, while Vigilia De Sa gave some instructions with regard to the prayer meeting.
Priests and Religious, faithful representatives of NGOs, a few MLAs and leaders of different political parties and large numbers of people of goodwill participated in the prayer for Peace.
Comment