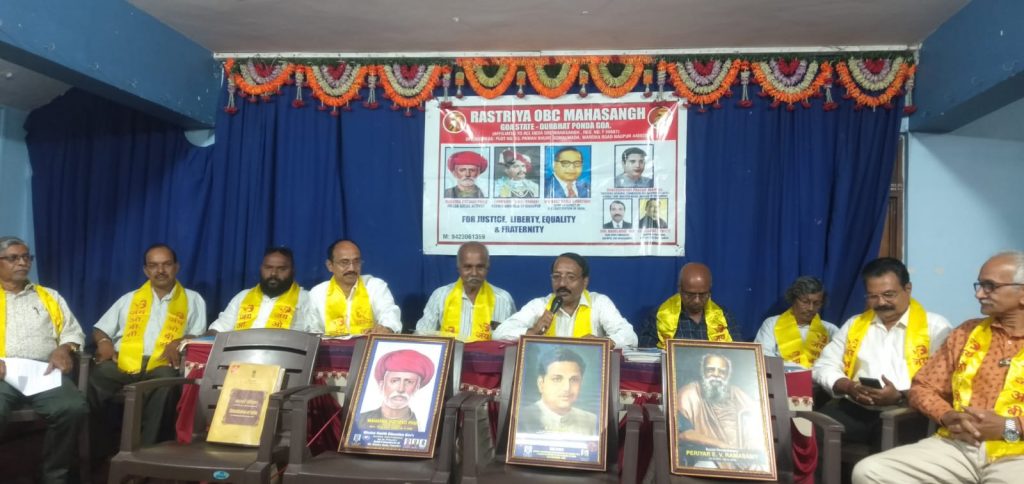 Goemkarponn desk
PONDA: The Rashtriya OBC Mahasnag, Goa State, today held a meeting of members of 19 Communities under the Chairmanship of its President Madu Naik over the Government's failure to give reservations for OBC in PG courses at GMC.
The chairman, at the outset, expressed disappointment over the Government not providing Reservations at GMC for PG courses to OBC, ST and SC students despite a promise to Court.
"If the cabinet approves an amendment in rules for admission in PG Courses for OBC students, it will clear the way for Reservation, but this Government is doing injustice to OBCs, which are 65 per cent population in Goa," he said.
He said, therefore, Rashtriya OBC Mahasangh today decided to launch Mandal Commission OBC Awareness Yatra in all 40 Constituencies in coordination with other like-minded associations for pending demands of OBCs. He said because of B.PMandal, OBCs got 27 per cent reservation, so awareness would be done in the name of Mandal Commission.
He said the Government failed to meet 38 other demands of OBCs.
Naik also said that besides Reservation for PG courses at GMC, Rashtriya OBC Mahansangh's demand is Government should commission one more medical College in south Goa so that Goan OBC students get the opportunity to pursue medical education.
"We don't want private medical College," said Madu Naik.
Office bearers of OBC Mahasangh, namely Vaman Vaidya, Nitin Chopdekar, Vinod Kinlyekar, Premanand Shetkar, Prakash Yendke, Nobat Vaidya, Suryakant Gosavi, Vivekanand Verenkar and others were present.
The other demands are to enact a bill for the Reservation of 27 % of seats for Other Backward Classes in the Goa Legislative Assembly.
It also demanded Reservation in promotion in the Service of the Goa Government. OBC welfare Ministry and create a separate Budget head for other Backward classes and make a 27 % Budget provision for other Backward Communities from 2022-23 onwards as per 27 % reservation by the Constitution of India.
It was demanded to take up the issues with the Govt of India (Home Ministry) of adding OBC's column in the Census of India in 2021 or the Goa Govt to do the OBC Census Independently.
It also wants to constitute the Social Justice monitoring Committee of the Goa State Government.
There is a demand to make applicable Ekalavya Prashikshan Yojana to OBC / SC / EWS students in Std. X, XI & XII were designed by Tribal Welfare Ministry, Govt. of Goa, till NEET / GCET portion is covered by Goa Board.
Comment