As rains pour, so does the appearance of plastic-sheets on Canacona streets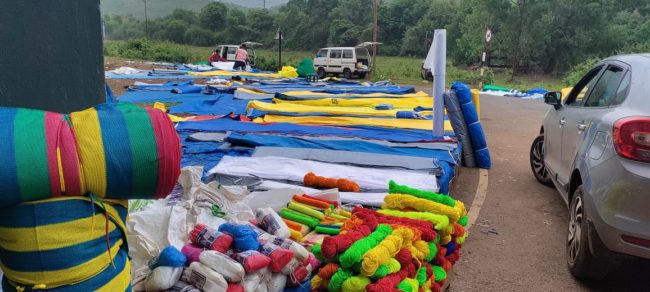 Goemkarponn desk
CANACONA – While the pre-monsoon rains have intensified, so does the sale of Plastics as a means of rain-protection gained momentum in Canacona.
Dozens of traders selling plastics of various qualities, sizes, and types have appeared and practically engulfed the Canacona streets, besides several other shops stocking the same.
People were still busy carrying out the pre-monsoon works, securing and covering their structures and houses for the onset of a long monsoon season, but were forced to undergo hasty beats as rains began much earlier than expected.
The NH-66 road junction adjoining two service roads at Nagorcem under the bridge, the Manohar Parrikar Canacona Bypass Road (MPCBR), is practically occupied by the plastic traders as several buyers frequent the area to make purchases.
Plastic traders, in fact, sell every plastic item such as plastic Matt's, Nylon ropes, and transparent, non-transparent sheets, which normally come in handy during the rainy season.
Besides, plastics are sold on streets and shops at Canacona's commercial hub, Chaudi, with traders multiplying on Saturday's weekly market.
Incidentally, however, though the rains have been pouring, the traders complain about the lack of sale of plastics as not many customers buy plastics.
Many people use plastic sheets to cover their rain prone roofs sideways. Besides, most tourism structures are covered with plastic sheets to avoid seepage and protection from winds and rains during monsoon, while still plastic sheets are used as rain shields in residences.
Comment