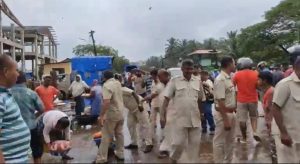 Goemkarponn desk
MARGAO: The Margao Municipal Council (MMC), South Goa Planning and Development Authority (SGPDA), and the traffic police today implemented strict measures to ensure the market's cleanliness and cleared vendors selling fish at the market in accordance with the High Court of Bombay at Goa.
"As of today, retail fish sales at the SGPDA wholesale fish market are prohibited. We have cleared the area and requested that retail fish vendors write to SGPDA and MMC for space allocation; the authorities will respond, according to an MMC officer.
The retail fish vendors insisted they had been given this location and were not prepared to go.
A fish dealer lamented, "We are poor; we survive by selling fish. Where will we go? What about the fish? It will spoil, therefore we must sell it.
The president of the wholesale fish market traders association, M Ibrahim, attempted to lay the blame for the entire issue in the wholesale fish market on the SGPDA, claiming that 90% of the business there is unlawful.
In reality, he said that extortion is common in the wholesale fish market and emphasized the fact that illegal trade dominates there.
SGPDA said that they should be contacted by traditional fishermen to obtain permission to sell their catch, but only inside the wholesale fish market.
"Outside of the wholesale fish market, there cannot be any retail sales of fish. However, if the vendors assert that they are ramponkars selling fish in wholesale, allow them to do so with PDA approval, SGPDA officer added, adding that the MMC will never permit any vendors to sell fish outside the wholesale fish market.
He claimed that the traffic police have been instructed to ticket any parked cars along the route leading to the wholesale fish market.
"We are working in accordance with the High Court's orders, which have made it very plain that vehicles cannot be parked on either side of the wholesale.
Comment