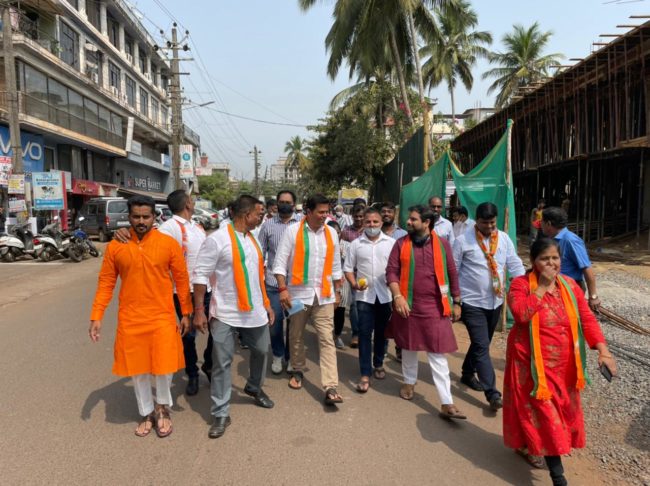 Goemkarponn desk
MAPUSA: In a major allegation. which could have huge political repercussions, BJP's Saligao candidate has made direct allegations of former Minister Michael Lobo trying to influence voters with money power.
He also urged the Election Commission of India to take cognizance of the same and stop such illegal activities of distributing money.
After filing his nomination, Salgaocar said that there are efforts to divide people by such activities.
"There was an effort to create a perception that there was a divide in Saligao BJP, there is nothing as such, and everybody is working together," he said.
He further said, "Michael Lobo formula of distributing money in Saligao will not work. They are trying to bribe voters with Rs 3000 and Rs 5000 envelopes."
He said that there is a small coterie of people who have been trying to lure voters.
"The same thing is happening in the Siolim and Mapusa constituencies, and people are being forcefully given money. It is said that the envelopes are being packed in one of Michael Lobo's flats, which are distributed in Saligao, Siolim and Mapusa," he said.
"This has to stop. The Election Commission has to take action on this," he said.
The former Minister for Ports said that Saligao people have self-respect and will not bow to such tactics.
"I urge people to take the money and make a wise decision before voting. Bardez is not a circus, and Michael Lobo is not a Ring Master. It is time Michael Lobo has to be taught a lesson," he said.
He further said, "Together for Bardez slogan should be Together for Money."
Asked about the BJP's induction of Dilip Parulekar as vice president of the party, he said Dilip's support will be a huge difference.
"No doubt BJP will form the government in 2022. People had requested me to join BJP, and I have accepted their request. Despite being in the opposition, I have taken up 350 works. After the elections, I will take the remaining work. I have never seen anyone as a ruling or opposition worker," he said.
Comment