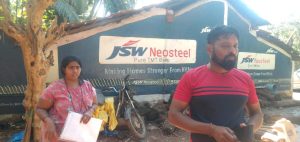 Goemakrponn desk
PONDA: Khajordem, Borim couple Sanjog Borkar and his wife Priya Borkar today alleged that one non-Goan businessman Ragu Naik is harassing and threatening them for rivalry over the bakery business.
They urged the Police and Panchayat to take action against him.
According to Sanjog Borkar, he has been carrying out his family's traditional bakery business for more than sixty years and selling bakery products and bread in Borim Village.
Today he had gone to sell bread at Gadder, Borim, when he was threatened with dire consequences if he sold bread in the area.
According to Sanjog, Ragu Naik has been operating an illegal bakery business for the past three years without the permission of the Panchayat and FDA, and the local Bakery Associations have also demanded action against his illicit business bakery.
He said CM Pramod Sawant had made a statement yesterday about taking strict action against goondagiri, so he should direct the police to take strict action on the matter.
His wife, Priya Borkar, said she was assaulted by the Ragu four years back with danda, and she was hospitalized for two weeks, but despite this, no strict action has been taken against Ragu.
The said Ragu is selling his illegal bakery item near the house and posing a threat to her family.
Comment